Our Role in Teleprotection Over IP
Solutions
Power companies rely on a secure and well-performing network to ensure stable, uninterrupted electricity to its customers. Protective relays and critical communication links isolate faults by sending command signals between substations within microseconds of a failure, preventing failure and severe equipment damage.
The JumboSwitch® family was designed to support critical applications like Teleprotection over IP networks.
Teleprotection over IP
Teleprotection channels are required to be fast, reliable, dependable and secure. As legacy infrastructure and substation devices migrate to Ethernet and IP networks, some of the industry's main concerns are meeting latency requirements and signal dependability.
Teleprotection operation times are required to be between 5 and 15msec to ensure high voltage system faults are cleared within 100msec. Typical processing delay on the JumboSwitch fiber network is 2-5msec end-to-end.
Applications:
Teleprotection over IP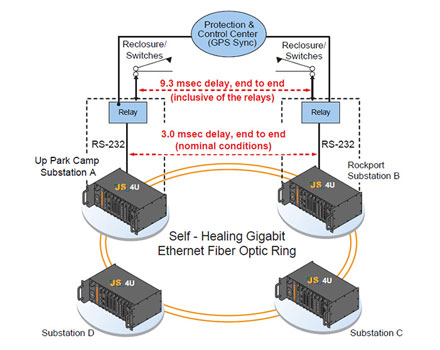 Monitor Latency in Real Time
Communication channel latency can be monitored real-time and traced historically.
Allow the protection engineer to calculate latency budget of protection schemes
Improve teleprotection performance
Use as a diagnostic tool when troubleshooting delays and isolating problems
Applications:
Monitor Latency in Real Time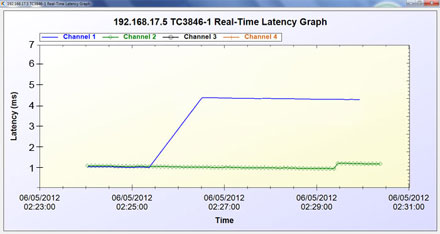 A History of Helping
Customers Succeed
Paraguay Power Company Deploys JumboSwitch
South American Power Utilities have traditionally used SDH/SONET systems for their substation communications networks.
However, when the National Power Company of Paraguay (ANDE) received a budget-busting six-figure price quote for each SDH/SONET node for a proposed substation network expansion and upgrade, they immediately began researching lower cost Ethernet/IP alternatives.
Learn how the National Power Company of Paraguay Cut Costs with JumboSwitch
Hurricane-Proof Jamaican Network
Imagine being asked to "hurricane proof" your entire communication network, particularly your SCADA and Teleprotection networks, in less than a year.
Such was the situation that the management team at Jamaica Public Service Company Limited (JPS) faced in early 2007 according to Clive Wright, Manager, Electronic & Communication Systems.
Read the full Case Study