An Australian power company upgraded their network to MPLS, but had no fiber available to implement primary and backup teleprotection links. The JumboSwitch C37.94 IP Gateway passed a variety of Latency and Operating Time tests for 87L Line Differential protection and was implemented as an easy edge solution on their MPLS network.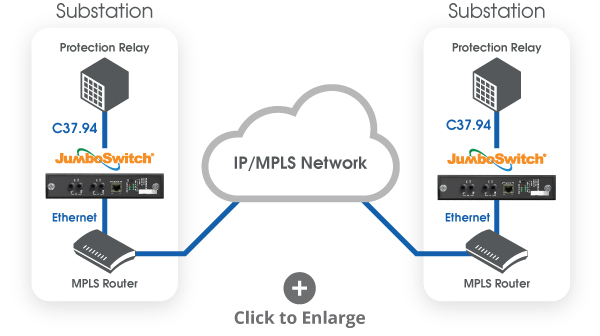 Situation
An Australian power company began modernizing their operation communications network. This included a rollout of optical fiber to the Zone Substations, implementing MPLS at the substations, and implementing teleprotection on a 132kV network. Primary factors driving the upgrade included:
Meeting protection fault clearance time standards under NER requirements
Needing to resolve unacceptably slow SCADA response over the existing SCADA radio system that had been exaggerated by the implementation of an ADMS system and RTU upgrades
Improving cyber security on the existing SCADA system
Challenges
The power company utilizes an MPLS network with routers at the substation nodes. The network is a multi-service network carrying a variety of services included SCADA, corporate, water and voice over MPLS. Among various challenges in rolling out the network, the power company had limited dark fiber cores available and was unable to implement primary and backup teleprotection links.
Solution
The power company chose to test TC's JumboSwitch C37.94 over IP card at its substations on its MPLS network. A variety of conditions were tested from uncongested QoS to backbone congestion with Latency Mode 3 on Schweitzer's SEL411L. All tests were passed.
Result
The JumboSwitch C37.94 to IP gateway was successfully implemented for Teleprotection over the IP MPLS network with latency of 7ms for relay-to-relay 87L Line Differential communications and protection operation in under 40ms. The power company also implemented backup dynamic MPLS paths for redundancy with failover under 80ms.
---