30+ Years of Manufacturing Quality Products in the USA
TAA Compliance / Buy American Act
TAA refers to the Trade Agreements Act (19 U.S.C. § 2501-2581), which is intended to foster fair and open international trade. TAA requires that products be manufactured or "substantially transformed" in the United States or a "designated country", including countries that have free trade agreements with the US, countries that participate in the World Trade Organization Government Procurement Agreement, a "least developed" country, and Caribbean Basin countries.
TAA compliance requirements are built into federal procurement contracts such as GSA Schedule Contracts, IDIQ contracts and most Department of Defense contracts. All products offered under GSA Schedule contracts must be TAA compliant.
TC's products are TAA Compliant and manufactured and assembled in the United States. See below for TC's list of products.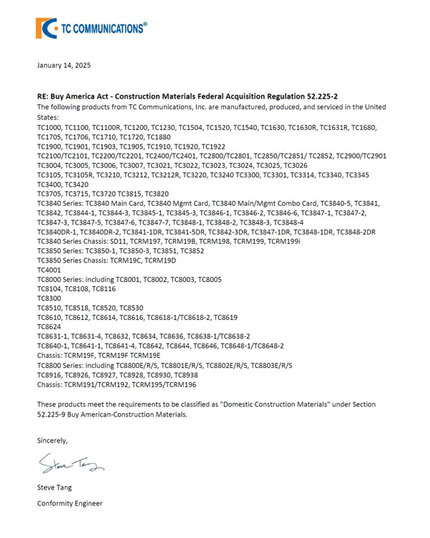 GSA Schedule
Our products are listed on GSA
Visit the website: GSAAdvantage.gov
Search for TC Communications or by product part number
Contract Number: 47QTCA20D006L
Or contact us directly to put you in touch with a sales representative.
ISO 9001 Certification
TC Communications operates a Quality Management System which complies with the requirements of ISO 9001:2015.