TC3026
High Data Rate Fiber Optic Mode Converter/Repeater (to 52 Mbps)
Features
Supporting data rates from 64 Kbps to 52 Mbps, the TC3026 Mode Converter Series converts, regenerates or extends 850nm/1300nm multi-mode or 1310nm/1550nm single mode optical signals up to 80 km.
The TC3026 provides several key features including Dry Contact Alarm Relay with audible alarm buzzer, Power Redundancy, and stand alone or rack mount modularity.
Data Rates from 64 Kbps to 52 Mbps
Supports Burst Data
Transmits Distances up to 80km
850nm/1300nm Multi-mode & 1310nm/1550nm Single Mode
Multiple Diagnostic LED Indicators
Built-In Loopback Functions
Local Dry Contact Alarm Relay
Available in Standalone or Rack Mount Chassis
Applications
The TC3026 Mode Converter Series is frequently used to convert multimode fiber optic signals to single mode, and to connect various devices in Telephony or LAN communication environments. This conversion is done to cross-connect different fiber types, regenerate optical signals and/or extend transmission distances. It is also used for Burst Data applications.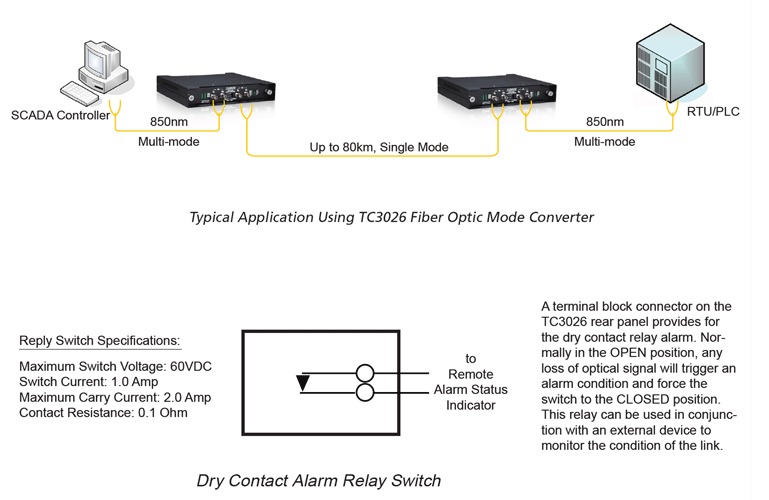 Specifications
Data Rates
TC302664 Kbps to 52 Mbps
Optical
TransmitterLED/ELED
ReceiverPIN Diode
Wavelength850/1300nm MM, 1310/1550nm SM
Fiber Optic ConnectorsST, Optional SC
Loss Budgets * - 850/1310/1550nm
Multimode @62.5/125µm15dB
Single Mode @9/125µm20dB
System
Bit Error Rate1 in 10

10

or Better
Visual Indicators
MM RX, MM TX, MM LB, SM RX, SM TX, SM LB, S-H, ALARM, PWRA, PWRB, Vcc
Diagnostic Functions
Normal OPEN
Alarm
Dry ContactSM & MM Loopback, High/Low Speed, Disable Alarm
Power
Standard12VDC @ 200mA
Optional24VDC, -48VDC or 115/230VAC (with external cube)
Temperature
Operating-10°C to 50°C
Hi-Temp (optional)-20°C to 70°C
Storage-40°C to 90°C
Humidity95% non-condensing
Physical (Stand Alone Unit)
Height(3.53 cm) 1.39"
Width(18.13 cm) 7.14"
Depth(16.59 cm) 6.53"
Weight(512 gm) 1.5 lbs
* Contact factory for higher requirements
Product version may differ from current manual. For assistance or proper manual version please contact Technical Support.