TC8616
C37.94-Over-T1/E1 Multiplexer
Features
The TC8616 is a one or two channel C37.94-over-T1/E1 multiplexer. For T1 Channel 1 supports N=1 to 12 and Channel 2 support N=1 to 8. For E1 both channels support N=1 to 12. This allows network managers the flexibility to leverage existing T1/E1 circuits by adding teleprotection relays. It is economical, simple to install and comes standard with built-in power redundancy.
Extends IEEE C37.94 interfaces over T1/E1
For T1:
Channel 1 supports N=1 to 12
Channel 2 supports N=1 to 8
For E1:
Both channels supports N=1 to 12
ESF Framing Support for T1
PCM31C Framing Support for E1
Diagnostic Feature CSU Loop Up/Down Code Supported
Very Low Latency
Built-in Power Redundancy
Rack Mount or Stand Alone
The TC8616 is available in two configurations:
Applications
A low cost and immediate solution, the TC8616 is typically used to link or extend C37.94 Teleprotection relays over existing T1/E1 links.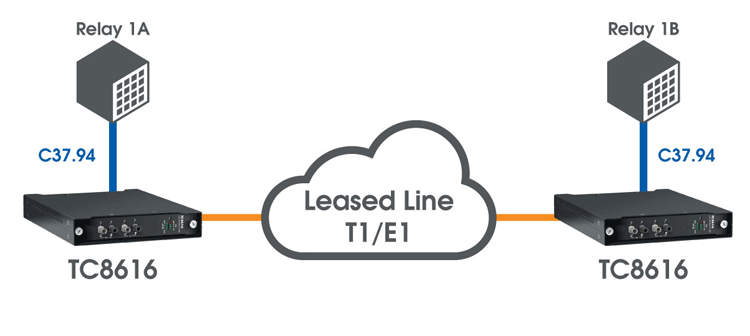 Specifications
Connection Capacity
C37.94
For T1
Channel 1 N=1 to 12
Channel 2 N=1 to 8
For E1
Channel 1 N=1 to 12
Channel 2 N=1 to 12
T1/E1
T1
Receiver Sensitivity0dB to -36dB
Line CodeAMI / B8ZS
FramingESF Only
E1
Receiver Sensitivity0dB to -43dB
Line CodeAMI / HDB3
FramingPCM31C
Optical (C37.94)
TransmitterLED/ELED
ReceiverPIN Diode
Wavelength850nm MM, 1300/1550nm SM
Fiber Optic ConnectorST
Loss Budget* - 850/1300/1550nm
Multimode @ 62.5/125µm15dB
Single Mode @ 9/125µm20dB
Visual Indicators
Channel Status (each ch.)RX, TX
SystemPWR A, PWR B, Vcc, ALM, RMT
T1/E1AMI, RAI, AIS, , CRC, BPV, LOS, SYNC
System
Bit Error Rate1 in 10

9

or better
Alarm
Dry ContactNormal Open/Closed
Power
Standard12VDC @300mA
Optional24VDC, -48VDC, 125VDC, or 115/230VAC w/ power cube
Temperature
Operating-10°C to 50°C
Hi-Temp (optional)-20°C to 70°C
Extreme (optional)-40°C to 80°C
Storage-40°C to 90°C
Humidity95% non-condensing
Physical (Standalone Unit)
Height(3.53cm) 1.40"
Width(18.14cm) 7.20"
Depth(24.89cm) 9.80"
Weight(907g) 2.0lbs
*Contact factory for higher requirements/availability
Product version may differ from current manual. For assistance or proper manual version please contact Technical Support.