TC3846-2
C37.94-over-IP Gateway
The C37.94-over-IP/Ethernet interface card extends two IEEE C37.94 fiber optic circuits over Ethernet networks and provides extremely low latency.
The JumboSwitch® series is a TDM over IP/Ethernet based solution designed to emulate time-division multiplexing over packet switched networks (PSN). TDM over IP/Ethernet is a TDM pseudowire (PW) technology making it possible to provision E1, T1, E3, T3, STS-1 and serial data services across PSN's such as IP, MPLS or layer 2 Ethernet Networks.
For assistance with this product or to request a user manual please contact Technical Support.
Features
Extends IEEE C37.94 interfaces over Ethernet (ideal for Teleprotection Relays)
Less Than 5 msec. Latency, One Way
Point-to-Point & Point-to-MultiPoint Applications
VLAN and QoS Support
Manage Via Web, SNMP, Serial Console, Telnet
Temperature & Power Consumption Monitoring
Extreme Temp (-40°C to +80ºC) Optional
Meets or Exceeds IEC 61850-3, IEEE1613 & NEMA TS-2 Standards
Member of the JumboSwitch® Product Family
Applications
Typical applications include extending C37.94 circuits across IP networks.
For example, the TC3846-2 is used to extend Teleprotection relays with a C37.94 interface over existing Layer 2 / Layer 3 Networks.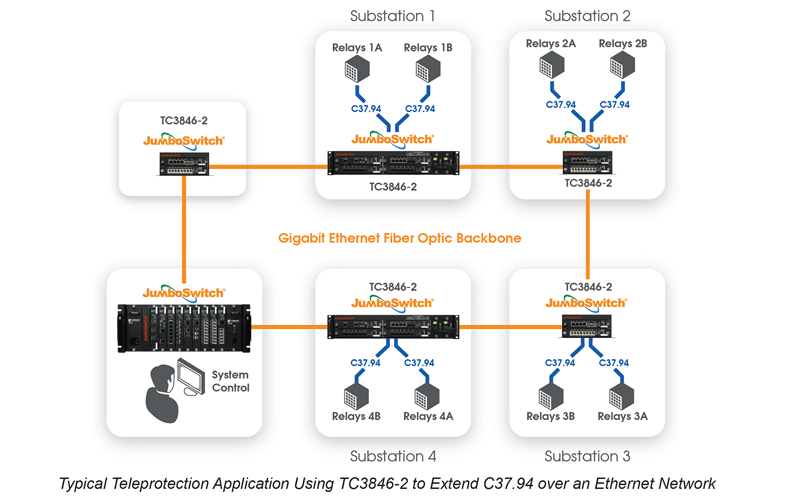 Specifications
Data Rates
C37.94Nx64Kbps
Ethernet10/100 Mbps Full Duplex
Console9.6K
Connection Capacity
C37.942 Channels
Ethernet1 Port
Optical (C37.94)
TransmitterLED/ELED
ReceiverPIN Diode
Wavelength850 MM, 1300/1550 SM
Fiber Optic ConnectorST
Loss Budget* - 850/1300/1550nm
Multimode @ 62.5/125µm15dB
Single Mode @ 9/125µm20dB
Electrical
StandardsIEEE 802.3, 802.3u, 802.1p&Q
ConnectorRJ45
Console Port2.5mm Audio Jack
Diagnostic Functions
Local and Remote Loopback for C37.94 and Ethernet
LEDs
Unit StatusPWR (A, B), Alarm Vcc, BP, MGM
C37.94Status
EthernetLink/Act
Power
Standard12VDC
Optional24, -48 VDC 90-260 VAC, 50/60Hz
Power Consumption< 10W
Operating Temperature
Hi-Temp-20°C to 70°C
Extreme Temp-40°C to 80°C
Storage
Temperature-40°C to 90°C
Humidity95% non-condensing
Physical (Standalone Unit)
Height(3.89 cm) 1.53"
Width(18.54 cm) 7.30"
Depth(24.87 cm) 9.79"
Weight(0.4 gm) 1.00 lb
*Contact factory for higher requirements
Ordering
For More Information