TC3846-2
C37.94-over-IP Gateway
Features
The TC3846-2 links or extends up to 2 channels of C37.94 circuits across Layer 2/3 Ethernet/IP, CE, or MPLS networks. It is easy to configure, offers extremely low latency, and supports point-to-point and point-to multi-point topologies.
Extends 2 Channels of IEEE C37.94 interfaces over Ethernet (ideal for Teleprotection Relays)
Extremely Low Latency
Built-In Temperature & Power Sensors
Extreme Temp (-40°C to +80ºC) Optional
Meets or Exceeds IEC 61850-3, IEEE1613 & NEMA TS-2 Standards
Member of the JumboSwitch® Product Family
The JumboSwitch® series is a TDM over IP/Ethernet based solution designed to emulate time-division multiplexing over packet switched networks (PSN). TDM over IP/Ethernet is a TDM pseudowire (PW) technology making it possible to provision E1, T1, E3, T3, STS-1 and serial data services across PSN's such as IP, MPLS or layer 2 Ethernet Networks.
Applications
Typical applications include extending C37.94 circuits across Ethernet/IP, CE, or MPLS networks.
For example, the TC3846-2 is often used to extend C37.94 signals from one protection relay to another over an Ethernet/IP network.
Each C37.94 optical fiber channel is independent and transparent to protocols and signaling used. Clear channel and octet aligned modes are supported.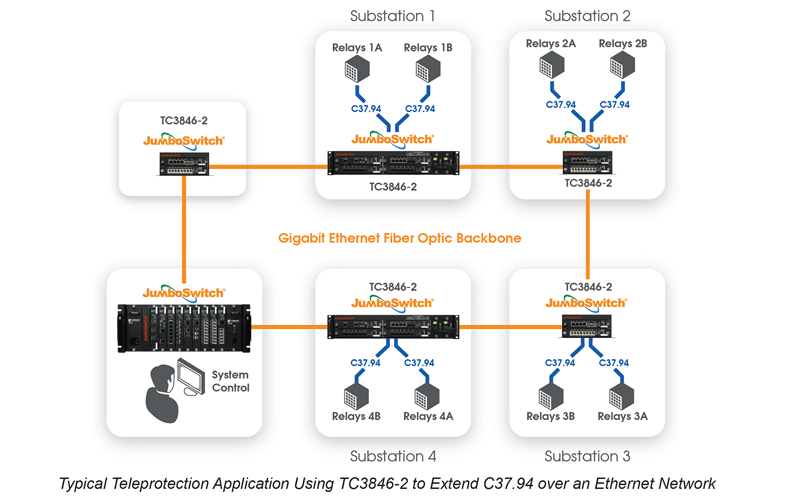 Specifications
Connection Capacity
C37.942 Ports
Ethernet2 Ports
Optical (C37.94)
TransmitterLED/ELED
ReceiverPIN Diode
Wavelength850nm MM, 1300/1550nm SM
Fiber Optic ConnectorST
Loss Budget* - 850/1300/1550nm
Multimode @ 62.5/125µm15dB
Single Mode @ 9/125µm20dB
Electrical
StandardsIEEE 802.3, 802.3u
ConnectorRJ45
Console Port2.5mm Audio Jack
Standard Compliance
CE, FCC Part 15, CISPR (EN55022) CLASS A, IEC 61850-3, IEEE 1613, NEMA TS-2, IEC 60834
Diagnostic Functions
Local and Remote Loopback for C37.94
LEDs
Unit StatusPWR (A, B), Alarm Vcc, BP, MGM, BU, PL
C37.94Signal, Link
EthernetLink, Duplex
Power
Standard12VDC
Optional24, -48 VDC 90-260 VAC, 50/60Hz
Power Consumption< 10W
Operating Temperature
Hi-Temp-20°C to 70°C
Extreme Temp-40°C to 80°C
Storage
Temperature-40°C to 90°C
Humidity95% non-condensing
Physical (Standalone Unit)
Height(3.89 cm) 1.53"
Width(18.54 cm) 7.30"
Depth(24.87 cm) 9.79"
Weight(0.4 gm) 1.00 lb
*Contact factory for higher requirements
For assistance with this product or to request a user manual please contact Technical Support.