Specializations and Applications
Signal Control in Wayside Networks
Provide reliable data connectivity between wayside cabinets that are subject to harsh weather conditions connecting serial controllers over an IP backbone with JumboSwitch. This product family also supports voice applications (full-featured PBX) and real-time traffic management applications with IP and/or Serial-over-IP interfaces.
Applications:
Communication to Control Points
Multi-Service Ethernet in Wayside Bungalows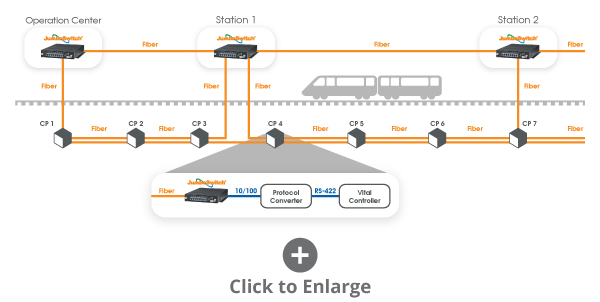 Leased Line Replacement
Leased lines are becoming increasingly expensive and more difficult to maintain as Telcos look to end these services. As deadlines approach, companies are being forced to quickly find alternatives with minimal impact on existing networks.
Applications:
Leased Line Replacement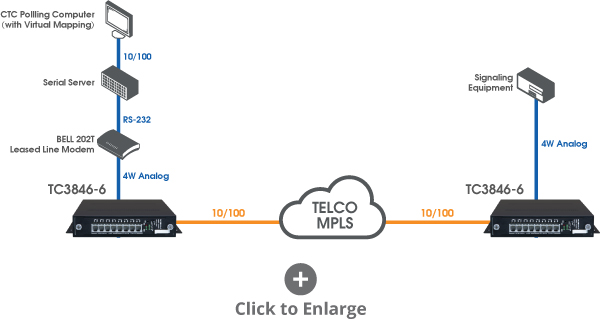 Positive Train Control
Multi-service networks are essential to providing a number of safety features for rail. Known as Positive Train Control (PTC) these networks use GPS technology to prevent train-on-train collisions, regulate speed, and prevent on-board human error. TDM over IP products connect remote control points to radio towers with analog and dry contact interface cards. With these applications stations and trains can rely on immediate, clear, and reliable exchanges of data.
Applications:
PTC Integration and Communications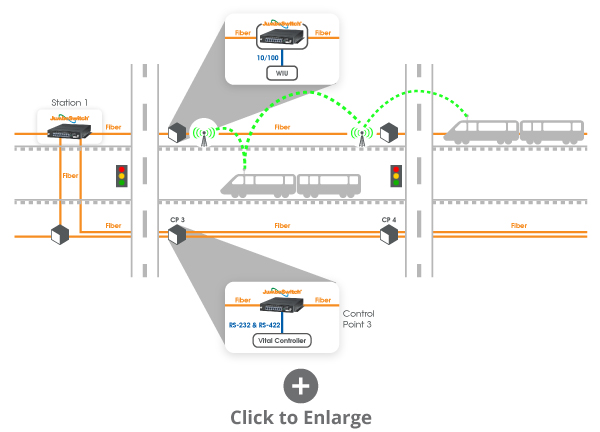 A History of Helping
Customers Succeed
Metrolink
Rail systems often require upgrade due to equipment replacement and increased ridership. TC Communications has worked with Metro and MetroLink to incorporate multi-service Ethernet switch platforms with legacy equipment. Both rail operators required flexible systems that could be scaled and changed to support future growth.
Read about MetroLink's upgrade to 67 communication shelters and control points
West Coast Light Rail
Faced with an immediate need to replace older wayside Vital Controllers that had been in service for more than 15 years with newer Controllers, a large West Coast Light Rail system (the Metro) decided to also upgrade its signaling and communications fiber optic network at the same time.
Read the full case study here
"TC Communications' support and service has been excellent. [In] our experience with them they have been very service oriented. We have specified TC Communications' equipment in some of our future communications project designs."


- Jerone Hurst, Metrolink Southern California Regional Rail Authority

"TC Communications played an important role in providing training and helping District 6 to configure the first Jumboswitch in order for it to work with the existing network, and they continue to provide support as necessary."