Providing stable, high-quality voice, audio and system reliability between emergency dispatch centers and remote radio transmitters and receivers
Linking 2-way radio systems to a voter at radio control centers providing Ethernet, analog and dry contact connectivity in one chassis
Replacing existing copper or leased lines with fiber optic connectivity devices to guarantee channel clarity, extend transmission distances and prevent signal loss due to degradation of traditional copper
Many public safety networks rely on analog voters to monitor multiple remote sites and utilize radios and consoles with analog interfaces at remote and dispatch locations. Forklift upgrades to this type of analog system come with significant cost and time investments, including training and support.
JumboSwitch® allows you to seamlessly integrate analog devices over an existing or new IP/MPLS or Carrier Ethernet backbone. Our products allow you to connect up to 4-wire E&M and 2-wire 600 ohm analog circuits between the remote repeater or voting receiver sites to the central voting and dispatch site.
Learn more about enhanced audio through Analog Radio over IP in this technical write-up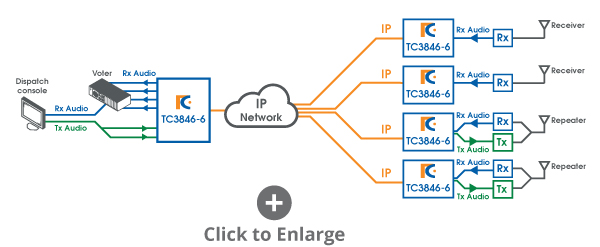 Copper, RTNA, PLNA, FDDA, leased lines... different names, same challenge. Leased lines are becoming increasingly expensive and more difficult to maintain as telcos look to retire these services for other carrier options for private backhaul of their radio networks. Our JumboSwitch product line allows customers to quickly find optimal alternatives that minimize impact on existing networks without a forklift upgrade of their infrastructure. Utilizing JumboSwitch in Radio over IP solutions allows network managers to preserve existing analog devices while moving to an IP network, providing a cost-effective, low maintenance solution that seamlessly integrates with private and carrier backhaul networks.
White paper: Navigating Leased Line Network Modernization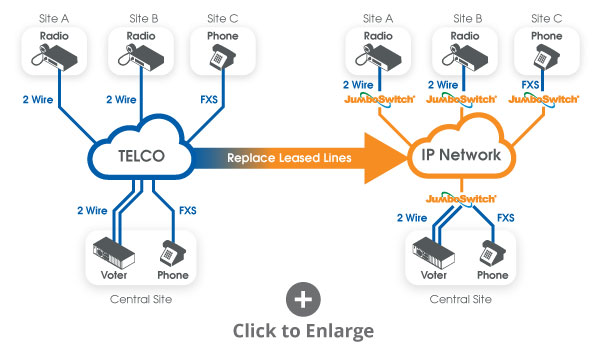 This gateway was utilized to clone a single analog channel to two remote sites across a layer 2/3 network. In this case, the TC3846-6 clones the IP/Ethernet signal from the primary site, sending them to four analog PA speakers at each remote site. The solution can be expanded to work for many analog devices including radio, PA and master/slave SCADA systems, as well as alarm dry contacts.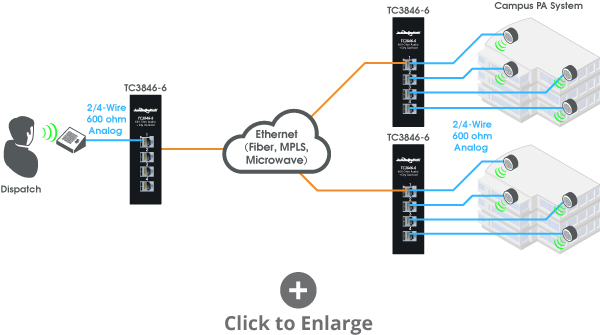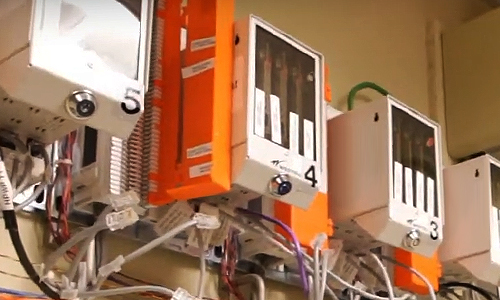 ESRN eliminates leased line costs
East Shore Radio Network (ESRN) needed a replacement solution to eliminate their leased line costs. Support for leased lines had also lessened in recent years. Finding a cost-effective and future-proof solution was critical. ESRN was able to fully integrate existing equipment while improving audio quality.
Read more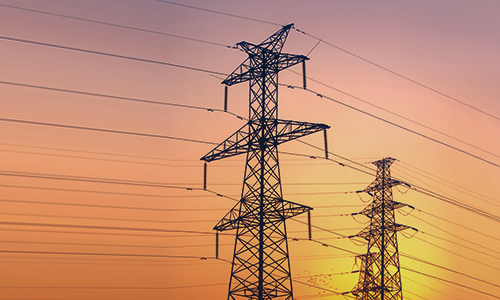 Mid-Atlantic utility replaces leased lines
With the availability of telco leased lines facing an uncertain future, power utility network managers are looking at alternative tools and transmission mediums for communications transport.
Read more
Watch the video about the East Shore Radio Project
"Over the past thirty-five years I have used similar boxes from other vendors for similar applications. But I have never seen one that would produce such a linear, uniform audio transmission from one end to the other - especially across an IP link."


- Martin T. Vinson, N.C.T., A.S.C.E.T.

Read more
Radio for mission critical communications systems must provide maximum reliability and seamless integration across multiple products in the network. Radio over IP (RoIP) solutions provide stable, high quality voice audio, and maximum system reliability in critical network connectivity applications.
In addition to analog radios many public safety networks rely on analog voters to monitor multiple remote sites and select the receiver with the best audio quality. Migration for an entirely analog system would require a complete equipment overhaul and training.
As an alternative TC Communications offers an interim, cost-effective, easy to deploy solution that will help network managers migrate their analog radios and voting comparators to an IP network in an easy, secure fashion while maintaining audio quality where other products may fail. Our analog over IP products have been deployed and proven in some of the harshest environments in the world.