Ethernet has emerged as the technology of choice for most networking requirements and is rapidly replacing competing technologies such as TDM (SONET/SDH), Frame Relay and ATM in both Metro Area Networks (MANs) and Wide Area Networks (WANs).
Much of Ethernet's success can be attributed to its simplicity and interoperability (plug-and-play & universal connectivity). These benefits, combined with significant cost efficiencies (low replacement costs & future-proof scalability), give network professionals compelling reasons to upgrade their existing network.
TC Comm's Ethernet/IP platform solution is the JumboSwitch. It integrates Ethernet/IP, VoIP and TDM over IP/Ethernet over a redundant Gigabit Ethernet fiber optic backbone and features 11 different hot-swappable and self-configuring interface card options. Interfaces currently include 10/100/1000M Ethernet, VoIP, Analog, Audio, Intercom, Dry Contact, T1/E1, RS232, RS422/485, G.703/64K, C37.94 and Ethernet-over-PDH (T1/E1 & T3/E3).
Application Diagram:
Connect various industrial applications through JumboSwitch®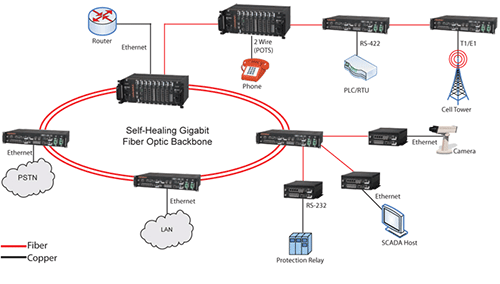 Alternate Solutions
You get much more than standard Ethernet connectivity from TC Communications. Depending on your budget and specific application requirements, you get to choose between Ethernet Switches, Media Converters, VoIP+ Virtual PBX, Multiplexers & Ethernet Telephone Extenders. In addition, Industrial grade versions are available with special components, connectors, circuitry, conformal coating, etc.