TC3848-1 and -2
VoIP Virtual-PBX
VoIP+, TC3848-1/-2 is a complete telephony solution that merges the simplicity of Ethernet with the call processing features of PABXs into one compact interface card. With no central hub required, the TC3848-1/-2 utilizes VoIP technology to become a self-contained phone system/product.
The JumboSwitch® series is a TDM over IP/Ethernet based solution designed to emulate time-division multiplexing over packet switched networks (PSN). TDM over IP/Ethernet is a TDM pseudowire (PW) technology making it possible to provision E1, T1, E3, T3, STS-1 and serial data services across PSN's such as IP, MPLS or layer 2 Ethernet Networks.
For assistance with this product or to request a user manual please contact Technical Support.
Features
DIN Rail (DR) versions also available for specialized applications view datasheet
4 FXS + 1 FXO; or 5 FXO (for full interface card)
Extreme Temp (-40°C to +80°C) Optional
Audio Codes Standards: G.711 ALAW/ULAW, G.726-32, T.38 Fax
Internal Address Book
Compatible with SIP
Manage via Web, SNMP or Telnet
Remote Firmware Upgrade
Meets or Exceeds IEC 61850-3, IEEE 1613, & NEMA TS-2, Standards
Member of the JumboSwitch® Product Family
Applications
VoIP+ is ideal to create phone solutions for private LANs in harsh environments. Seamlessly integrate reliable phone service and comprehensive call processing features without having to use PBXs. It is the first industrial grade VoIP Virtual PBX product in the industry.
VoIP+ Introduction
The TC3848-1 and -2 features all essential PABX call processing features including 3-Way Conferencing, Call Forwarding, Music on Hold, Call Transfer, Call Waiting, Hot Line, Group Hunting, Volume Control, Mute, Caller ID and more. Compatible with analog phones, the TC3848 utilizes IEEE 802.1p/Q QoS prioritization to guarantee consistent, toll quality voice, regardless of network traffic. It is straight forward to setup, so it works with existing phone systems. No need to re-train users.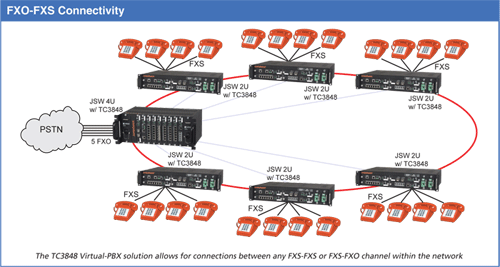 Auto-Attendant - Transfer callers to the desired extension without the need of a receptionist
Caller ID - 2 lines of identification displaying the name and number of the caller
Hot Line - Create an instant phone connection by simply picking up your phone to ring a remote phone
Group Hunting - Distribute phone calls to multiple locations anywhere within your VoIP network
3-Way Conferencing - 3 parties can connect at the same time in a conference call
Call Processing - Comprehensive features to assist callers, such as Call Forwarding, Music on Hold, Transfer,Fax, etc.
Temperature & Power Monitoring - Monitor the live temperature and power usage of each card to ensure operation
More Features
Management is simple and comprehensive. Accessible via a web browser, Telnet, or SNMP. Password protection prevents unauthorized phone service use. Diagnostic LEDs include power, Ethernet status, as well as Ring and Hook status.

The TC3848-1 and -2 has a built-in address book that allows it to operate as a fully functioning and independent telephony system for up to 100 phone numbers, without the need of an additional SIP server or Call Manager. It also supports SIP protocols with an external SIP server. With its straightforward FXS and FXO port connectivity, it is possible to gracefully extend PSTN service from a single node to several remote locations. This eliminates the need for excessive PSTN lines and even the PBX itself!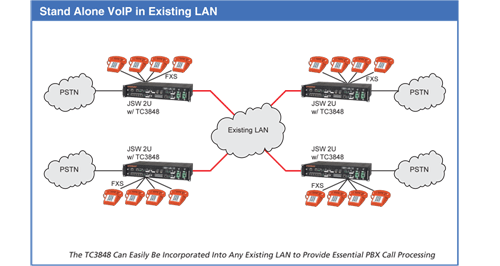 Environmental & EMI Compliance
The JumboSwitch® and its product family interface cards meet or exceed all pertinent industrial environmental and EMI industry standards including IEC 61850-3 and IEEE 1613 for networking devices installed in electric power substations and NEMA TS-2 for traffi c control environments.
The chart below details information related to JumboSwitch® environmental and EMI compliance testing. TC Communications Industrial grade products are manufactured with special components, connectors and circuitry. This ensures reliable operation in the event of wide temperature swings, electromagnetic interference (EMI), radio interference, vibrations, or moisture and humidity fluctuations. Conformal coating is optional.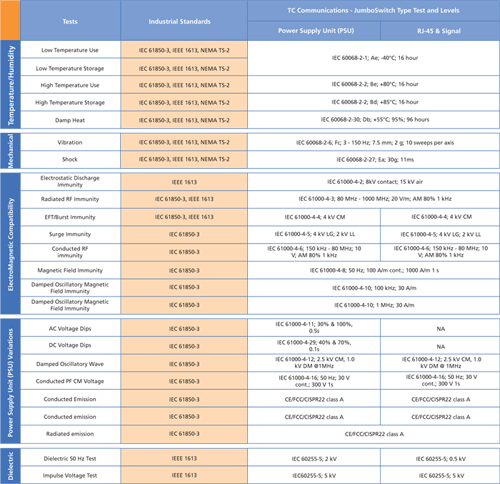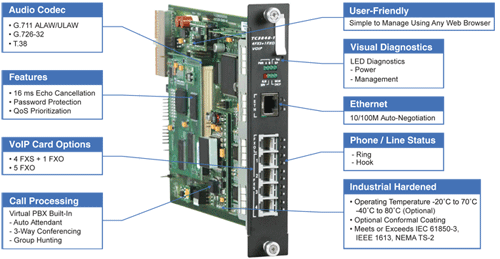 Specifications
Interfaces
TC3848-14 FXS + 1 FXO
TC3848-25 FXO
Media Processing
Voice CodecG.711 ALAW, G.711 ULAW, G.726-32, T.38 Fax, G.729 Optional
Silence SuppressionVAD, CNG
Adaptive Jitter Buffer300 msec
Packetization
RTP/RTCPRFC 3350, 3551, 2198
DTMF RelayRFC 2833
Protocols
VoIP Signaling ProtocolsSIP - RFC 3261, 3262, 3263, 3264, 2327
Ethernet ProtocolsHTTP, IPv4, TCP, UDP, ICMP, ARP, DNS, IEEE 802.1p/Q QoS, IEEE 803/3u/3x
SLIC Characteristics
Maximum Ringer Load (REN)5
Short/Long Haul
Ringer Voltage65Vrms
Distance18,000 feet
LEDs
System StatusPWR A, PWR B, SRV, ANS, Vcc, ALM
PhoneRing, Hook
EthernetLink, Duplex
Power
Standard12VDC
Optional24, -48VDC, 90-260 VAC, 50/60Hz
Power Consumption<10W
Operating Temperature
Hi-Temp-20°C to 70°C
Extreme Temp-40°C to 80°C
Storage
Temperature-40°C to 90°C
Humidity95% non-condensing
Physical (Standalone Unit)
Height(38.9 mm) 1.53"
Width(185.4 mm) 7.3"
Depth(248.7 mm) 9.79"
Weight(0.4 kg) 1.0 lb
Ordering
For More Information