TC3841
6-Port Gigabit Copper Ethernet Switch
Features
This 6-Port GigE card is a copper interface, Ethernet switch that is fully featured allowing control over Security Network Configurations, Rate Limiting, VLAN and QoS.
6-Port 10/100/1000 Copper Ethernet Switch
6-Port 10/100 Copper Ethernet Switch (Optional)
Rate-Limit, VLAN, QoS & More
Network Manageable Via Web (with TC3840 MGMT card)
Built-In Temperature & Power Sensors
Extreme Temp (-40°C to +80°C) Optional
Meets or Exceeds IEC 61850-3, IEEE 1613, & NEMA TS-2 Standards
Member of the JumboSwitch® Product Family
Applications
With its ability to operate in the harshest of environments and its advanced networking features, the TC3841 is the perfect solution for virtually all Ethernet Switch applications encountered in the Industrial Automation, Utility and Transportation industries. It is also used by Data Service Providers to control the bandwidths they offer to their customers.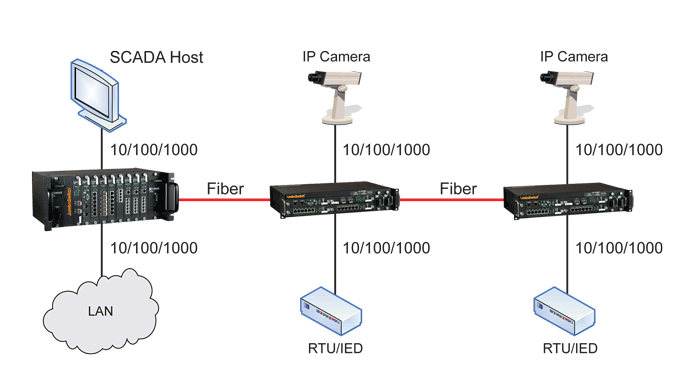 Specifications
Data Rates
Standard10/100/1000Mbps with rate control
Optional10/100Mbps Only (Optional)
Electrical
Ethernet Interface ConnectorRJ45 (CAT5E/CAT6 gold plated contact)
System
Bit Error Rate1 in 10

10

or better
LEDs
ALM, Vcc, PWR (A, B), Link/Act, Duplex (10/100/1000 ports only), Speed (10/100/1000 ports only), BP, MGM
Regulatory Approval
CE, FCC Part 15, CISPR (EN55022) CLASS A, IEC 61850-3, IEEE 1613, NEMA TS-2
Power
Standard12VDC
Optional24, -48 VDC 90-260 VAC, 50/60Hz
Power Consumption< 10W
Operating Temperature
Hi-Temp-20°C to 70°C
Extreme Temp-40°C to 80°C
Storage
Temperature-40°C to 90°C
Humidity95% non-condensing
Physical (4-Channel Standalone)
Height(3.53 cm) 1.39"
Width(18.13 cm) 7.14"
Depth(24.89 cm) 9.80"
Weight(887 gm) 1.96 lb
For assistance with this product or to request a user manual please contact Technical Support.