TC3340
Managed 10/100/1000 Fiber Ethernet Switch w/ Self-Healing Ring (2+2 Ports)
Substation hardened & rugged, the TC3340 Redundant Gigabit Ethernet Switch is a cost effective networking solution for both industrial and commercial fiber networks.
Product version may differ from current manual. For assistance or proper manual version please contact Technical Support.
Features
2 Ports 10/100/1000Base-TX (UTP) & 1000Base-SX/LX
Optical Redundancy (ring "self-heals" within 38 msec.)
Ethernet Rate Limit, VLAN & QoS
Built-In Power & Temperature Sensors
Remote Optic Measurements (e.g. Transmit Power & Receive Power)
Network Management (Web, SNMP, Console & Telnet)
SM/MM & Bi-Directional SFP Optics
Extreme-Temp (-40ºC to 80ºC) & Hi-Temp (-20ºC to 70ºC) Options
IEC 61850-3, IEEE 1613 & NEMA TS-2
Power: 12 VDC, 24VDC, -48VDC or 115/230VAC
Applications
The TC3340 is a compact Gigabit Switch solution for both industrial automation and commercial networks because it offers a wide range of advanced networking features including Redundancy, Rate Limiting, Diagnostics, Security and Industrial Hardened capability. It is also used by Data Service Providers for its rate limiting; one fiber, bi-directional; and media conversion capabilities.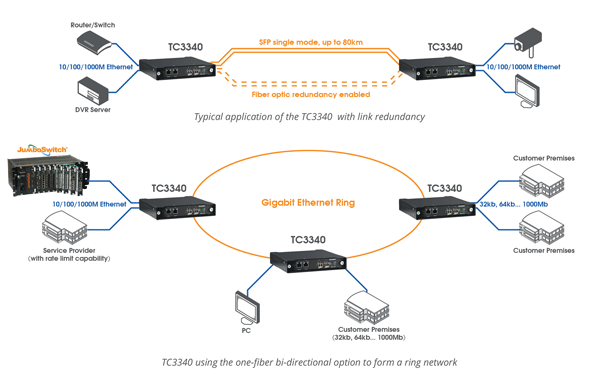 Specifications
Data Rates
Rates10/100/1000 Mbps with Rate Control
Optical
TransmitterELED/LASER
ReceiverPIN Diode
WavelengthSFP: 850nm MM, SFP: 1300/1550nm
SFP ConnectorsLC
Loss Budgets * - 1300/1550nm
Multimode @62.5/125µm15dB
Single Mode @9/125µm20dB*
Electrical
ConnectorRJ45 (10/100/1000M), SFP: RJ45 (10/100/1000M)
InterfaceEthernet
Visual Indicators
ALM, LINK, FULL, 1000M, PWR A, PWR B, VCC, DFLTYes
System
Bit Error Rate1 in 10

10

or Better
Diagnostic Functions
Traffic StatisticsYes
Transmit Power/Receive PowerYes
TemperatureYes
Alarm
Dry ContactNormal Open
Power
Standard12W
Optional24, -48 or 115/230VAC (w/ external cube)
Temperature
Operating-10°C to 50°C
Hi-Temp (option)-20°C to 70°C
Extreme Temp (option)-40°C to 80°C
Storage-40°C to 90°C
Humidity95% non-condensing
Physical (Standalone Unit)
Height(3.53 cm) 1.39"
Width(18.13 cm) 7.14"
Depth(16.59 cm) 6.53"
Weight(544 gm) 1.2 lbs
* Contact factory for higher requirements
Ordering
For More Information