The JumboSwitch is ideal for all popular Power Utility and Substation applications including SCADA, Teleprotection, Substation Automation and IP Security. It also allows full integration with the increased reliability and network modernization of Smart Grid communications technologies.
The JumboSwitch integrates Ethernet, Serial, T1/E1, G.703 and Telephone over one cost efficient IP platform and its modular design offers users the economies of scale to expand Utility communications networks as needed in the future.
As required by most Power Utilities, the JumboSwitch is fully managed and exceeds all pertinent industry specifications including IEEE61850-3 and IEC1613. TC's Engineering Department features a variety of sophisticated testing equipment to verify that its Industrial Grade products meet the most demanding environmental and EMI requirements.
Oil/Gas & Pipelines
Unequalled IP-Based Ethernet, Voice and Data integration, make the JumboSwitch a highly efficient networking solution for the oil, gas and pipeline industries.
The oil, gas and pipeline industries have stringent industry requirements for redundancy and industrial hardened capabilities and the JumboSwitch ensures reliable operation in the event of fiber or equipment failures, wide temperature swings, electromagnetic interference (EMI), radio interference, vibrations, or moisture and humidity fluctuations. Conformal coating is optional.
The application diagram (Fig. 2) illustrates how the JumboSwitch is a logical choice for SCADA communications systems and similar applications that connect various devices including RTUs, PLCs, IEDs and Surveillance Cameras.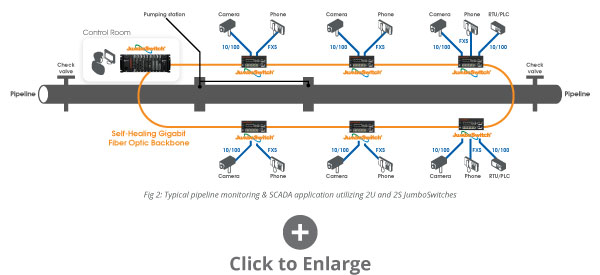 Water Treatment Plants
Supporting Work Stations, SCADA and high bandwidth video surveillance systems over a self-healing ring fiber optic network in modern water treatment plants is a perfect fit for the JumboSwitch.
Its dynamic bandwidth allocation scheme guarantees real time images from cameras regardless of the amount of network traffic generated by workstations, etc. The application diagram (Fig. 3) illustrates how the JumboSwitch can also connect remote buildings and central control rooms across long distances…often an issue with water treatment plants.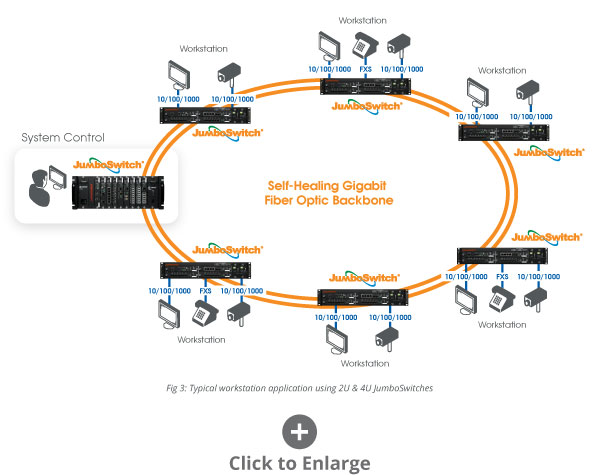 Transportation
The JumboSwitch is ideal for transportation and traffic control networks because it can economically support Serial/Ethernet traffic control signals, VoIP and IP cameras over one integrated network. Moreover, the JumboSwitch provides a future-proof platform that enables users to upgrade their old legacy systems immediately or over several years.
The JumboSwitch brings all of the benefits of modern Industrial Ethernet Technology and provides the bandwidth, management and extensive features necessary to meet the exacting demands of today's traffic control and transportation networks. The application diagram (Fig. 4) supports this claim.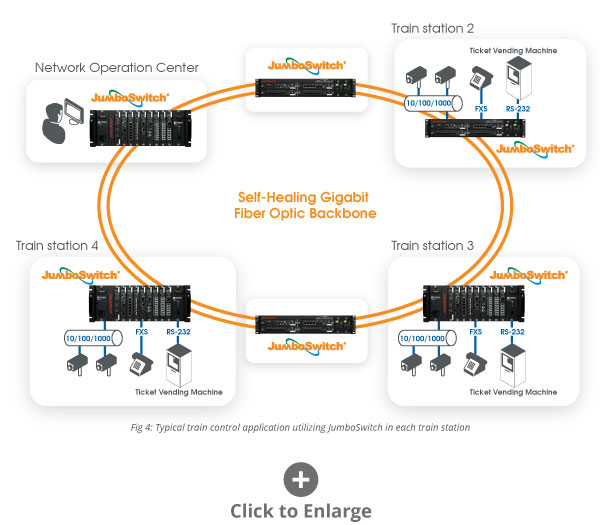 Video Surveillance
The JumboSwitch is an excellent choice for video surveillance applications because it is scalable, easily capable of high bandwidth demands, industrial hardened for harsh environments and efficiently supports related data devices.
It is also worth noting that many Ethernet switches in the market, including the JumboSwitch, effectively support IP cameras for video surveillance applications. However, as the need for Video surveillance continues to dramatically increase in airports, shipyards, railroads, utilities, shopping centers, hotels, amusement parks, etc., it is important to also consider related voice and data network requirements that may arise in the future.
In addition to video surveillance, future communication networks will need to transport more diverse traffic types (e.g. office data, voice and video packets) over a single interconnected platform. This need, along with the indisputable cost-savings and simplicity of Ethernet, will drive a sustained migration to multi-faceted IP-based solutions like the JumboSwitch for video surveillance and related applications.
Microwave Backhaul Networks
Backhaul, the transport of voice, video and data between the cell site and the carriers' Mobile Switching Center (MSC), is increasingly relying on fiber optic networks to handle the bandwidth necessary to support 3G/4G wireless and escalating mobile data and voice services (email, internet, video, etc.).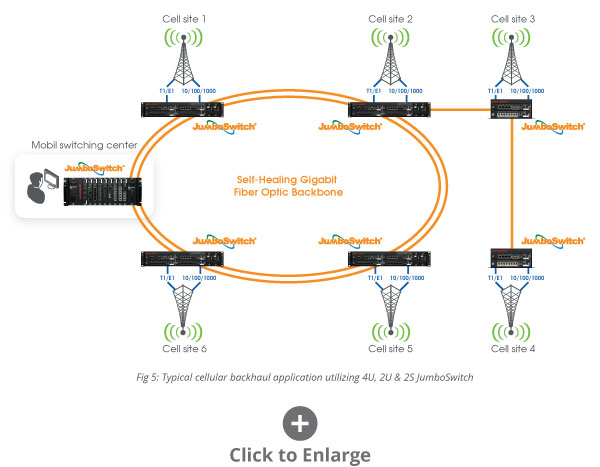 ---