No other type of communication technology has revolutionized the daily lives of ordinary people more than the telephone. Since its invention, telephone communication has steadily become an integral and irreplaceable part of all civil societies. To this day, despite incredible advances in other fields of telecommunication including data and video, voice remains a high priority requirement for all residential, commercial and industrial telecommunications networks.
With the explosion of available bandwidth over the Internet in recent years, the convergence of data, voice and video over a single infrastructure based on Internet Protocol (IP) has been gaining momentum and has dominated research and development efforts. Not only does network convergence deliver outstanding return on investment (ROI) by removing the need for overlay networks, it can also significantly improve productivity and communications processes. The JumboSwitch® offers TC3848 modular support two unique technologies/applications to implement and integrate voice over a JumboSwitch IP backbone:
Transparently connects PBX ports to remote analog phones over a JumboSwitch IP backbone
Completely replaces PBX's by using the JumboSwitch TC3848-1 interface card as a distributed, hardened and full-featured PBX for industrial applications
Voice over IP
Voice over IP or IP Telephony, also called VoIP or Internet telephony, makes it possible to have a telephone conversation over the Internet or dedicated Internet Protocol (IP) network instead of dedicated voice transmission lines. This technology eliminates circuit switching and the associated waste of bandwidth by using packet switching. IP packets with voice data are sent over the network only when data needs to be sent, i.e. when a caller is talking.
In industrial campus applications, combining voice solutions with data and video over a single secure optical fiber backbone offers several advantages including significantly lowering costs and complexity when compared to multi-network overlay solution.
JumboSwitch VoIP Benefits
The JumboSwitch® modular industrial Gigabit Ethernet IP backbone platform integrates legacy TDM, Ethernet, serial traffic and VoIP solutions. The benefits of combining voice and other applications over a single cost-effective Ethernet/IP fiber optic backbone include:
Significant cost savings by eliminating separate networks for voice and data
Higher reliability due to immunity from Electromagnetic Interference
Rugged Industrial Grade design and increased temperature range protection
Reduced costs by reducing toll lines
Standalone deployment offers flexibility to accommodate remote users via the Internet without long distance charges
Comparable features and functionality to PBX systems at a fraction of the cost
Easy connectivity to Public Switched Telephone Networks (PSTN)
Support for FAX and modems
JumboSwitch VoIP Modules
The TC3848 VoIP Virtual PBX modules provide industrial grade voice solutions over a JumboSwitch® GigE IP backbone. The TC3848 family consists of two modules that jointly offer a variety of unique JumboSwitch voice solutions. These modules include:
TC3848-1 (4 FXS and 1 FXO RJ11 Ports)
TC3848-2 (5 FXO RJ11 Ports)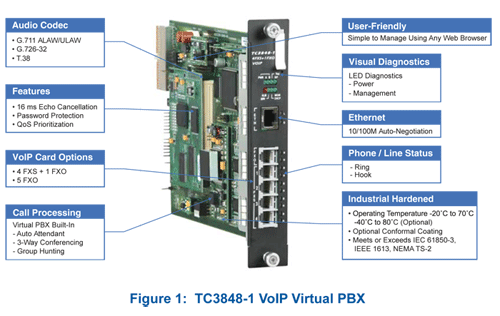 Click to enlarge
Application 1: Connecting PBX ports to Phones in Remote Sites
As shown in the diagram below, this application connects a central PBX to remote (i.e. beyond the capabilities of a copper connection) sites with a small number of analog phones. The combination of TC3848-1 (FXS) and TC3848-2 (FXO) modules offer transparent and dedicated connectivity between remote analog phones and a central PBX over a JumboSwitch optical fiber Ethernet/IP backbone. Examples of such deployments include railroads, freeways, factories, college campuses, military installations, oil refineries, etc.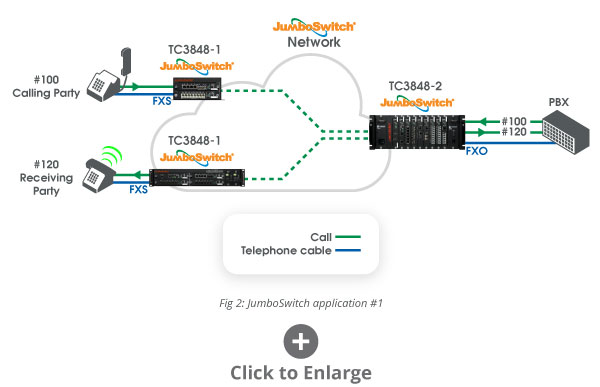 Example 1. Internal Call
In the figure above, the user on extension #100 wants to call extension #120.
As soon as the user goes off-hook, a dedicated preexisting connection between the two TC3848-1 (FXS port at extension #100) and TC3848-2 (FXO port at the PBX site) interface cards alert the PBX about the offhook.
The PBX sends the dial tone to the user and the user dials extension #120 which is on a different FXS port in a remote JumboSwitch location.
The PBX establishes the connection
Example 2. External Call
The user on extension #100 goes off-hook.
The PBX sends a dial tone.
The user dials "9" to get PSTN dial tone and dials outside number.
Example 3. Incoming External Call
For incoming outside calls, the PBX answers and redirects to extension #100.
Application 2: TC3848 Modules Acting as Distributed PBX
In this application, the TC3848-1 (FXS) modules are used as a full featured distributed PBX with all popular features including: call forwarding, three-way calling, call waiting, caller ID, hunt groups, etc. Please refer to the complete feature list on the next page.
The TC3848-1 (FXS) module supports this application with or without an external Session Initiation Protocol (SIP) server. As shown in the diagram below, the entire functionality of a central PBX is replaced by this interface card.
Without a central PBX or SIP server, any potential single point of failure is eliminated. This is a significant benefit, particularly in industrial mission critical environments. Connectivity to the PSTN network is provided either by using the FXO port on the TC3848-1 module or via one of the FXO ports on the TC3848-2 module.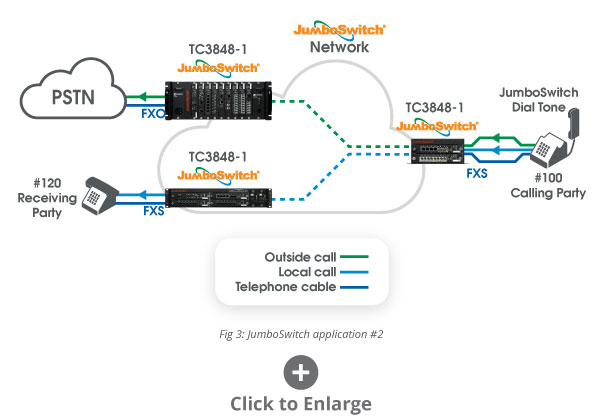 Example 1. Internal Call
The user on extension #100 goes off-hook.
In this case, the JumboSwitch TC3840-1 sends a Dial Tone.
3. The user dials extension #120 and the connection is established with extension #120 through the JumboSwitch backbone ring.
Example 2. External Call
For outgoing calls to PSTN network, the user simply dials "9" followed by "#" to get a PSTN Dial Tone.
Hardware Features
TC3848-1:
Four FXS and one FXO ports (Foreign Exchange Office) with standard RJ11 connectivity
Local Dry Contact Alarm Relay (DCAR)
System readout LEDs
Ruggedized for harsh environments
TC3848-2:
Five FXO ports (Foreign Exchange Office) with standard RJ11 connectivity
Local Dry Contact Alarm Relay (DCAR)
System readout LEDs
Ruggedized for harsh environments
Features in Both Modules:
Automated Attendant
3-Way Conferencing
Caller ID and many more
Music on Hold
Call Transfer
Call Waiting
Hot Links
Group Hunting
Volume Control, Mute
FXO Discounnect Supervision
Call Forwarding and Conference Calling
Web Management, SNMP, Telnet
Internal Address Book or SIP Server Ready
Rate Limiting capabilities are supported on the 10/100M Ethernet port
Remote Firmware Upgrade
10/100 Base-T Ethernet Interface
Echo Cancellation: G.168
Support Fax (T.38)
Internal Address Book
Support Telnet SNMP and Web Page Configuration for management
FXO Disconnect Supervision

Silence Detection
Disconnect Sequence
Disconnect Button on Web Page
Compliance
The TC3848 series meets the following industry standards and criteria:
IEEE 802.3p/Q - QoS Prioritization
Meets or Exceeds IEC 61580-3, IEEE 1613 and NEMA TS-2
G.711 ALAW/ULAW, G.726-32 Audio, and T.38 Fax Codecs
Compliant with Session Initiation Protocol (SIP) signaling
Compliant with Session Description Protocol (SDP)
Media support: RTP Control Protocol (RTCP)
Real Time Transport (RTP)
CODEC

G.711, G.726-32 and T.38 (Free)
G.729AB (Optional)
Selectable per channel
---