A smart grid integrates electricity delivery systems with modern interactive digital technology to offer an intelligent, less costly and more reliable delivery of electricity from supplier to consumer. Governments are promoting smart grid networks to address energy independence, global warming and to prevent potential large scale failures.
Without smart grid, a utility sometimes may not discover local substation breakdowns until customers call to complain. A Smart Grid architecture includes network sensors inside a transformer or along wires that can immediately locate and report a problem… or can even prevent it from happening in the first place.
To provide this level of reliability, substation networking equipment are required to comply with the same stringent set of standards as substation devices such as IEDs, PLCs and RTUs.
Smart Grid Communication
Because the Smart Grid is an aggregate of several components of a Utility's electrical delivery system, a single, integrated communications infrastructure is essential. The communications infrastructure must be fast, reliable, secure and support both existing legacy functions and future networking requirements. Moreover, the communications infrastructure must support backbone network and sub-network communications on one platform.
Traditionally, SONET/SDH systems have been the technology of choice for communication network backbone networks. However, Ethernet-based backbone networks with sophisticated management systems that reliably address critical issues such as bandwidth optimization, QoS and security, are rapidly replacing costly SONET/SDH based solutions.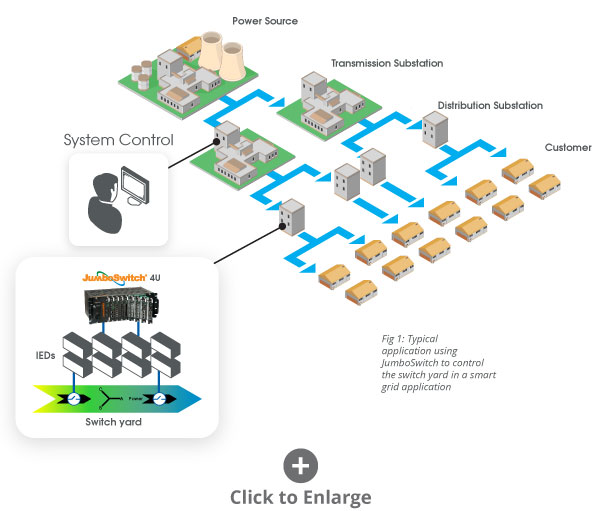 JumboSwitch® as a Smart Grid Solution
The JumboSwitch family of modular industrial Gigabit Ethernet switches qualifies as a next generation Smart Grid Ethernet/IP backbone solution for Utility applications. It provides a sophisticated network management system and supports the intelligent communication technology and diverse network architectures necessary to meet Smart Grid requirements. Moreover, it is fast, reliable and secure.
The JumboSwitch is also an efficient alternative to SONET/SDH networks in many instances because it provides a communications network backbone that is compatible with both legacy devices and developing technologies, including IP and Ethernet applications. Its viability is increased because it combines the simplicity and interoperability (plug-and-play & universal connectivity) of Ethernet with attractive cost efficiencies (low replacement costs & future-proof scalability).
The result of more than six years of Research and Development, the JumboSwitch is the culmination of TC Communications' more than 20 years of industrial grade networking technology experience. TC Communications has a strong reputation for innovation, reliability and credibility within the Utility Industry and has more than ten thousand product installations worldwide.
Designed to operate under the harshest EMI environments, the JumboSwitch is fully compliant with IEC61850-3 and IEEE1613 standards for utilities. With four different chassis sizes, the JumboSwitch platform offers cost-effective, customized solutions for all network sizes. With less than 50ms network recovery time using its self healing ring technology, the JumboSwitch offers the reliability and survivability of SONET/SDH with the plug-and- play simplicity of Ethernet for efficient and reliable inter-substation communication.
The JumboSwitch separates itself from competitor solutions by offering the largest selection of legacy interfaces in a unified, fully integrated platform. It also eliminates the need for less reliable and cumbersome multi-box solutions. The JumboSwitch currently supports the following interfaces and applications:
Ethernet
DCS/SCADA
Teleprotection
IEEE C37.94
Serial interfaces (RS-232, RS-422/RS-485)
Integrated PABX
T1/E1-over-Ethernet
T3/E3-over-Ethernet
Ethernet-over-PDH
600 Analog
G.703/64k
Dry Contact
Critical JumboSwitch® Features for Smart Grid Applications
Fast recovery – Self healing ring (less than 50ms) as well as Rapid Spanning Tree (IEEE 802.1w) & Multiple Spanning Tree (IEEE 802.1s)
Sophisticated Network Management System – TC

V

iew® offers comprehensive centralized Network Management that monitors & controls Faults, Configurations, Assets, Performance, Security, etc.
Extensive Security Features (NERC CIP Compliant)
Substation Specific Applications including Teleprotection (RS-232/485, IEEE C37.94 & G.703/64K optical interfaces) for protection relays
Fast RS-232/485-over-IP interface ("Turbo Serial") with less than 3ms delay for Teleprotection
T1 and E1 support with Near Stratum II level precision clock recovery
Wide temperature range (-40° to + 80°C)
Distances to more than 100km on single mode fiber for inter-substation connectivity
Redundant load sharing power supplies
Use of Small Form Factor Pluggable (SFP) optics with temperature, transmit & receive
For a more detailed view of security features please follow the following link: Industry Standards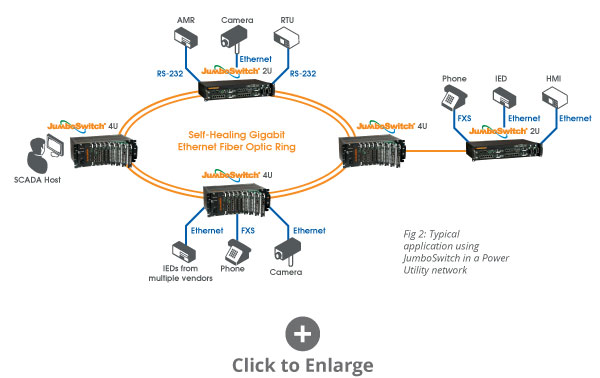 ---