TC1900
Async RS-232 Telephone Extender
Features
Compatible with PBXs & Key Systems, the TC1900 "Quick-Talk" Phone Extender extends voice over Async RS-232 into a voice network by plugging in an analog telephone.
The TC1900 "Quick-Talk" RS232 Phone Extender extends dial-up phone service to remote sites over Async RS-232. Compatible with most PBXs or Key Systems, it provides 2-wire FXS on the telephone side with ring down capability and FXO on the PBX side.
Extend Telephone Link with Async RS-232
19.2k, 38.4k, 48k Async Baud Rates
PBX and Key System Compatible, FXO/FXS Selectable
Voice Bandwidth from 300Hz to 3.4Khz for Toll Quality Sound
Built-In Dry Contact Relay for External Alarm and Ringer Connection
12VDC Power Supply, Optional 24VDC, -48VDC, 125VDC or 115/230VAC with Power Adapter
Built-In Power Redundancy
Rackmount or Standalone
Applications
The TC1900 is often used to extend telephone service in campus networks, power plants, substations, etc or use an existing service data channel to set up a telephone link. It is also used to set up "hot" telephone service via existing RS-232 links on satellite or microwave networks.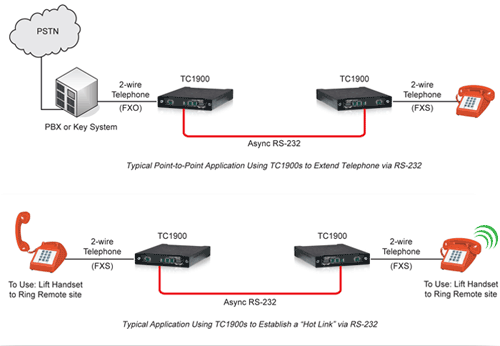 Specifications
Audio Bandwidth
Frequency300Hz to 3.4Khz
Electrical
Phone ConnectorRJ11 Female
Ring Voltage70Vrms at 20Hz (Depending on the ringing load)
FXO Input Impedance600 Ω
FXS Output Impedance600 Ω
RS-232 ConnectorRJ11 Female
Baud Rate19.2k, 32k, 38.4k, 48k
Future Release56k, 57.6k, 64k
Visual Indicators
Tx and Rx volume, Local off-hook, Remote off-hook,Yes
FXO, FXS, Ring, Optic Rx, Electric Rx, VccA, VccB, PWR A, PWR BYes
Alarm
Dry ContactNormal OPEN
Power
Standard12VDC @ 400mA
Optional24VDC, -48VDC, 125VDC or 115/230VAC with Power Cube
Temperature
Operating-10°C to 50°C
Hi-Temp (optional)-20°C to 70°C
Extreme (optional)-40°C to 80°C
Storage-40°C to 90°C
Humidity95% non-condensing
Physical (Rackmount Unit)
Height(3.53 cm) 1.4"
Width(18.14 cm) 7.2"
Depth(24.89 cm) 9.8"
Weight(907 gm) 2.0 lbs
Product version may differ from current manual. For assistance or proper manual version please contact Technical Support.