TC8800E
Telephone, Analog & Data Fiber Optic Multiplexer (Hot-Swappable 4-28 ch)
Features
Extend up to 28 telephone, data & analog channels to remote network sites with the TC8800 Fiber Optic Multiplexer.
Users can mix or match telephone channels or RS-232, RS422 TTL, Dry Contact Closure, Dry Contact Detector and 2/4-wire 600 Ohm Analog Lines in increments of four channels. For example, a user could multiplex 20 telephone channels & 8 RS-232 data channels. It supports Telephone channels from 300Hz to 3.4Khz & asynchronous data rates to 19.2 Kbps.
Up to 28 Telephone Lines and/or 2/4-wire 600 Ohm Analog, RS-232, RS-422, TTL, Dry Contact Closure, Dry ContactDetector
2-Wire Analog PBX and Key System Compatible
Multimode or Single Mode (850/1300/1550nm)
Built-In Power Redundancy
Optical Redundancy (optional)
Hi-Temp & Extreme Temp (optional)
Hot Swappable Rackmount Cards
Applications
The TC8800 is typically used to link or extend data and telephone lines in campus networks. In many instances the TC8800 can replace expensive channel banks.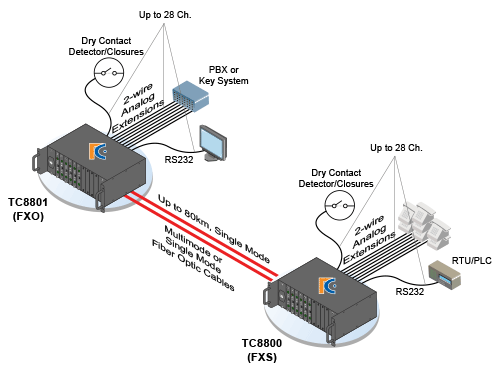 Specifications
Audio Bandwidth
Telephone300 Hz to 3.4 Khz
2/4-wire Analog300 Hz to 3.4 Khz
Data Interfaces
Async RS-232, RS-422, TTL, or Dry Contact Closure/Detector Data RatesUp to 19.2 Kbps
Channel Capacity
TC8800S4 or 8 Channels
TC8800R4, 8, 12, 16, 20, 24 or 28 Channels
Optical
TransmitterLED/ELED
ReceiverPIN Diode
Wavelength850/1300nm MM, 1300/1550nm SM
Fiber Optic ConnectorsST, FC
Loss Budget * - 850/1300/1550nm
Multimode @ 62.5/125µm15dB
Single Mode @ 9/125µm20dB
Electrical
ConnectorRJ11 Female
System
Bit Error Rate1 in 10

9

or better
Visual Indicators
Power A & B, Vcc, FXS-0, Tx, Rx,Monitor, Optic-Rx, Sync, TxFCLK,LOCLB, RMTLBYes
For each channelTx, Rx, Ring, Hook
Power
Standard12VDC
Optional24, -48VDC, or 115/230VAC*
Temperature
Operating-10°C to 50°C
Hi-Temp 1 (optional)-20°C to 70°C
Hi-Temp 2 (optional)-40°C to 80°C
Storage-40°C to 90°C
Humidity95% non-condensing
Physical (4-Channel Standalone)
Height(3.18 cm) 1.25"
Width(15.06 cm) 5.93"
Depth(21.84 cm) 8.60"
Weight(477 gm) 1.05 lbs
* Contact factory for higher requirements
Product version may differ from current manual. For assistance or proper manual version please contact Technical Support.