TC1905
Fiber Optic Telephone & Dry Contact Extender
Features
Compatible with analog telephones, PBXs or Key Systems, the TC1905 Phone Extender multiplexes one voice and one dry contact channel over fiber optic cable.
The TC1905 Phone Extender multiplexes one voice channel and one dry contact channel to remote locations over fiber optic cable. The voice channel is compatible with most analog telephones, PBXs or Key Systems. The dry contact channel is bi-directional.
Applications
TC1905 is often used to extend emergency phone service to remote sites in campus networks that also require a dry contact connection. For example, it could be used to provide voice communications for a push button phone and also pass through a dry contact signal to close a remote relay or activate a camera. Other applications include using the inherent benefits of fiber optics to improve voice quality, eliminates electromagnetic interference (EMI) or maximize security.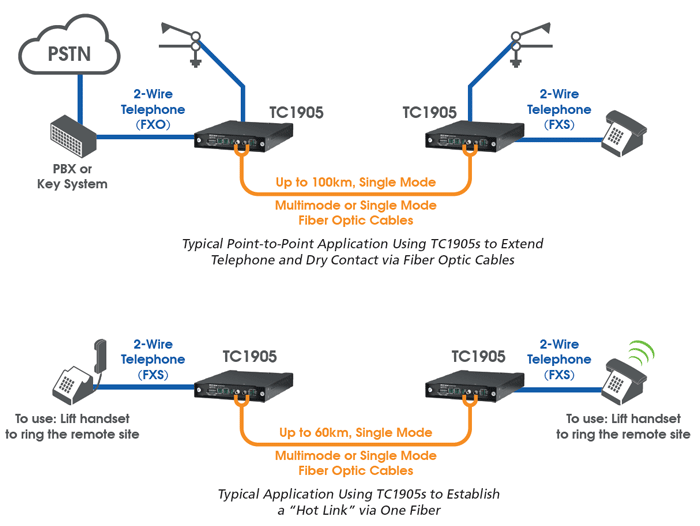 Specifications
Audio Bandwidth
Bandwidth300Hz to 3.4Khz
Optical
TransmitterLED, Laser*
ReceiverPIN Diode
Wavelength1300nm Multimode, 1300nm/1550nm Single Mode
Fiber Optic Connectorsstandard: SC, optional: ST or FC
Loss Budget * - 1300/1550nm
Multimode @62.5/125µm15dB
Single Mode @9/125µm20dB
Visual Indicators
OTx/Rx Volume, off-hook, FXO, FXS, Ring, Optic RxYes
VccA & VccB, PWR A & B and etc.Yes
Alarm / Ring
Dry ContactNormal OPEN
Power
Standard12VDC @500mA
Optional24VDC, -48VDC, 125VDC or 115/230VAC with Power Cube
Electrical
Phone ConnectorRJ11 Female
Ring Voltage80Vrms at 20Hz (Depending on the ringing load)
FXO Input Impedance600 Ohm
FXS Output Impedance600 Ohm
Dry Contact ConnectorRJ11 Female
Dry Contact Interface:
Load Voltage (peak AC)60V
Load Voltage (DC)60V
Continuous Load Current0.55A
Peak Load Current1.2A
Max On Resistance2.5 Ohm
Output Capacitance150pF
Temperature
Operating-10°C to 50°C
Hi-Temp (optional)-20°C to 70°C
Extreme Temp (optional)-40°C to 80°C
Storage-40°C to 90°C
Humidity95% non-condensing
Physical (Standalone Unit)
Height(3.53 cm) 1.4"
Width(18.14 cm) 7.2"
Depth(24.89 cm) 9.8"
Weight(907 gm) 2.0 lbs
* Contact factory for higher requirements
Product version may differ from current manual. For assistance or proper manual version please contact Technical Support.