TC1920
Telephone over Ethernet Extender (10/100BaseT)
Features
The TC1920 Ethernet Telephone Extender enables telephone service over a LAN via 10/100Base-T Ethernet connections. It has builtin codecs that digitize voice and converts to packets for transmission between local and remote TC1920s with designated IP addresses.
Extends telephone link over Ethernet
Built-in address book (up to 100 entries) for dialing without IP PBX
Group dialing up to 10 groups and up to 20 numbers per group
Heartbeat feature for peer-to-peer link monitoring
Compatible with G.711 u/A-Law (64K), G.726 (32K), G.726 (16K) and G.729A (8K)
Compatible with security TLS and SRTP, SIP and analog POTS lines
Works over Wi-Fi link
Works with fax (T.38 or pass-through)
Web-based configuration
28 LEDs for diagnostics and status monitoring
Built-in dry contact relay for external alarm and ringer connection
FXS (TC1920-1)
Two Ethernet RJ45 ports (10/100M)
12VDC, optional 24VDC, -48VDC, 125VDC or 115/230VAC with power adapter
Hardened temperature version (optional)
It provides toll quality sound within voice bandwidths from 300Hz to 3.4KHz. Phone connectors are RJ-11 female and 10/100Base-T connectors are RJ-45 female. A 2-wire FXS (foreign exchange subscriber) is provided on the telephone side.
Applications
The TC1920 is intended to provide reliable point-to-point or point-tomultipoint telephone/analog service via Ethernet networks. It is often used as critical phone links in campus environments, such as:
Utility substation networks
Airport service stations
Railside maintenance stations
Highway roadside phones
Military compounds
Parking lot entrances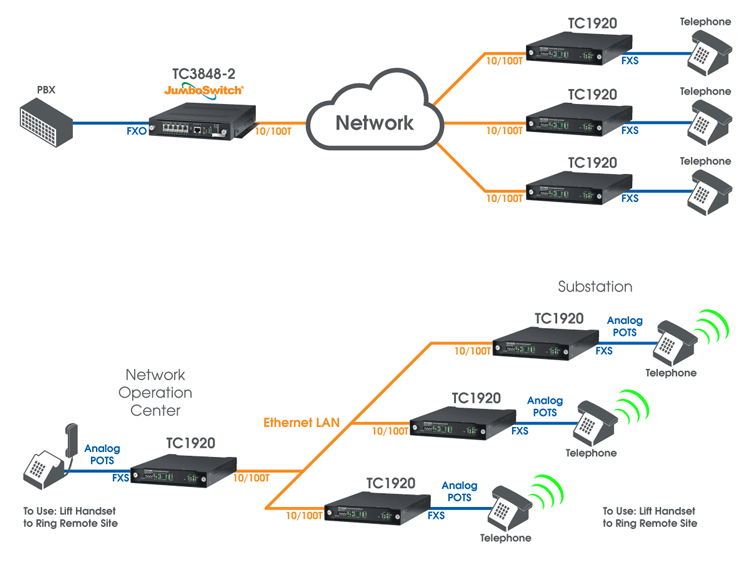 Specifications
Audio Bandwidth
Bandwidth300Hz to 3.4Khz
Electrical
Phone ConnectorRJ-11 Female
Ring Voltage55Vrms at 25Hz (Depending on the ringing load)
FXO Impedance600 Ohm
FXS Impedance600 Ohm
Ethernet10/100Base-T
Ethernet ConnectorRJ-45 Female
Rate10/100Mbps
Visual Indicators
HOOK, RING, Hotlink (HT-L), FXS, FXO, Slave (SLVE), Master (MSTR), TX & RX Volume, Compression Rate (CP-R), ALARM, LINK, BP1, BP2, PWR A, PWR B, Vcc, RDY
Alarm / Ring
Dry ContactNormal OPEN
Power
Standard12VDC @500mA
Optional24VDC, -48VDC, 125VDC, or 115/230VAC with power cube
Temperature
Operating-10°C to 50°C
Hi-Temp(optional)-20°C to 70°C
Storage-40°C to 90°C
Humidity95% non-condensing
Physical (Standalone Unit)
Height(3.15cm) 1.24"
Width(17.68 cm) 6.96"
Depth(22.61 cm) 8.90"
Weight(0.43 kg) 0.95 lbs
Product version may differ from current manual. For assistance or proper manual version please contact Technical Support.