TC8000
4W E&M Analog, Audio & Data Fiber Optic Multiplexer (4-28 ch)
Features
This analog multiplexer is a specialized 4-28 channel 2/4-Wire Analog, Audio, Intercom & Data Fiber Optic Multiplexer with hot-swappable chassis & high temperature options.
Up to 28 Channels of 2/4-wire Analog, Intercom and/or RS-232, RS-422, TTL Dry Contact Detectors & Closures
Voice Bandwidths from 300Hz to 3.4Khz
Multimode (850/1300nm) or Single Mode (1300/1550nm)
Built-In Power Redundancy
Optical Redundancy (optional)
Rackmount or Standalone
Hardened Temperature Version (optional)
Since the TC8000 digitizes the analog and voice signals (PCM), voice quality does not degrade over extended distances. Distances up to 80 km** are typical over single mode fiber, 4 km over multimode fiber.
Applications
The TC8000 is frequently used to link voice communications devices in telecommunications and SCADA environments. It is also used in harsh environments where ground loops, EMI/RFI interference and lightning conditions may occur.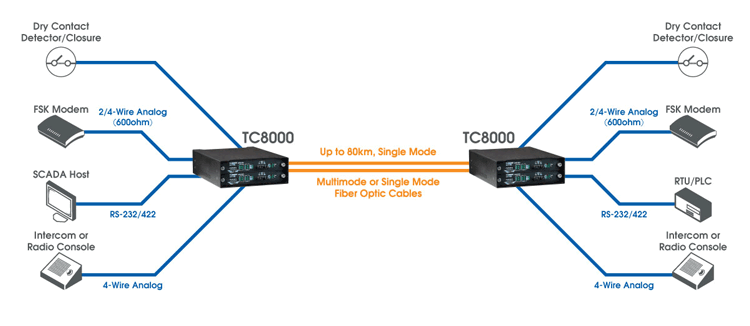 Specifications
Audio Bandwidth
Analog300Hz to 3.4KHz
Intercom300Hz to 3.4KHz
Signal Level
Input Range-1.5 to -40dBm
SNR32 to 36dB
Data Interfaces
Async RS-232, RS-422, TTL, or Dry Contact Closure/Detector Data RatesUp to 19.2 Kbps
Channel Capacity
Standalone Unit4 or 8 Channels
Rack Mount Unit4, 8, 12, 16, 20, 24 or 28 Channels
Optical
TransmitterLED/ELED
ReceiverPIN Diode
Wavelength850/1300nm MM, 1300/1550nm SM
Fiber Optic ConnectorsST, FC
Loss Budget * - 850/1300/1550nm
Multimode @ 62.5/125µm15dB
Single Mode @ 9/125µm20dB
Electrical
ConnectorRJ11 Female
Max Analog Input3Vp-p
Analog Interface (2 or 4-wire)600 Ohm Isolated Transformer
Intercom InterfaceCapacitor Coupled
System
Bit Error Rate1 in 10

9

or better
Visual Indicators
Power A, Power B, Alarm, Vcc,Volume, RxA, RxB, Sync, FSR
Power
Standard12VDC@300mA (per board)
Optional24, -48, 125VDC, or 115/230VAC with power cube
Temperature
Operating-10°C to 50°C
Hi-Temp (optional)-20°C to 70°C
Storage-40°C to 90°C
Humidity95% non-condensing
Physical (4-Channel Standalone)
Height(3.53 cm) 1.39"
Width(18.13 cm) 7.14"
Depth(24.89 cm) 9.80"
Weight(907 gm) 2.0 lbs
* Contact factory for higher requirements
Product version may differ from current manual. For assistance or proper manual version please contact Technical Support.