TC8614
4 Channel 600 ohm Analog & Dry Contact-over-T1/E1 Multiplexer
Features
The TC8614 is a 4-channel 600 ohm Analog & Dry Contact-over-T1/E1 Multiplexer that allows network managers the flexibility of leveraging their existing T1/E1 circuits by adding low cost analog or dry contact links as needed.
It is economical, simple to install and comes standard with built-in power redundancy. The TC8614 is available in three configurations:
4-Channel 2-Wire Analog with 4-Channel Dry Contact
4-Channel 4-Wire Analog with 4-Channel Dry Contact
2-Channel 2-Wire/ 2-Channel 4-Wire Analog with 4-Channel Dry Contact
4-ch. 600 ohm Analog & Dry Contact
2-Wire or 4-Wire Analog
ESF Framing Support for T1
PCM31C Framing Support for E1
Diagnostic Feature CSU Loop Up/Down Code Supported
Very Low Latency
Dry contact detectors with Isolated Ground
Built-in Power Redundancy
Rack Mount or Stand Alone
Applications
A low cost and immediate solution, the TC8614 is typically used to link or extend various 600Ω analog, audio and intercom devices (e.g. FSK modems, E&M, teleprotection relay controllers, etc.) and dry contacts over existing T1/E1 links. It is also used as a backup network to ensure business continuity.
Here it is used to improve voice quality and increase system reliability in harsh environments, to replace unreliable leased phone circuits and to stabilize voice level settings for 600 ohm audio channels.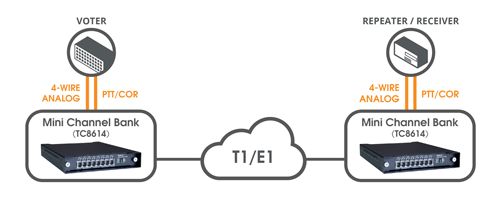 The TC8614 is also ideal for replacing channel banks where only a few channels are needed. A simpler, more efficient solution to strengthen your network. This 600Ω Analog over T1/E1 solution eliminates complicated setup and management and includes up to 4-ch Dry Contact (PTT/COR compatible).

Specifications
Connection Capacity
600 ohm (2/4 Wire)4 Ports
Dry Contact4 Ports
T1/E1
T1
Receiver Sensitivity0dB to -36dB
Line CodeAMI / B8ZS
FramingESF (Only)
E1
Receiver Sensitivity0dB to -43dB
Line CodeAMI / HDB3
FramingPCM31C
Electrical
Dry Contact Interface
Normal openstandard
Normal closeoptional
Load Voltage (peak AC)60V
Load Voltage (DC)60V
Continuous load current0.55A
Peak load current1.2A
Max On Resistance2.5 Ω
Output Capacitance150pF
Detector Max input voltage9V
600Ω analog interface
Impedance600Ω
Max Input3Vp-p
Frequency band300 to 3400Hz
Visual Indicators
Channel Status (each ch.)TX/RX or RLY/DET
SystemPWR A, PWR B, Vcc, ALM, RMT
T1/E1AMI, RAI, AIS, CRC, BPV, LOS, SYNC
System
Bit Error Rate1 in 10

9

or better
Alarm
Dry ContactNormal Open/Closed
Power
Standard12VDC @300mA
Optional24VDC, -48VDC, 125VDC, or 115/230VAC w/ power cube
Temperature
Operating-10°C to 50°C
Hi-Temp (optional)-20°C to 70°C
Extreme (optional)-40°C to 80°C
Storage-40°C to 90°C
Humidity95% non-condensing
Physical (Standalone Unit)
Height(3.53cm) 1.40"
Width(18.14cm) 7.20"
Depth(24.89cm) 9.80"
Weight(907g) 2.0lbs
*Contact factory for higher requirements/availability
Product version may differ from current manual. For assistance or proper manual version please contact Technical Support.