The JumboSwitch offers a unique VoIP package, VoIP+, that enables all VoIP phones (up to 100) to work the same as extension lines connected to a virtual PABX. VoIP+ provides basic and reliable call processing functions without the need of additional Call Managers or SIP Servers.
The TC3848 VoIP+ is ideal for creating phone solutions for private LANs in harsh environments. It seamlessly integrates reliable phone service and comprehensive call processing features without having to use PBXs. It is the first industrial grade VoIP Virtual PBX product in the industry.
Applications
Management is both simple and comprehensive and can be accessed via a web browser, Telnet, or SNMP. Password protection prevents unauthorized phone service use. Diagnostic LEDs include power, Ethernet status, and Ring and Hook status.
The TC3848 has a built-in address book that allows it to operate as a fully functioning and independent telephony system for up to 100 phone numbers, without the need of an additional SIP server or Call Manager. It also supports SIP protocols with an external SIP server. With its straightforward FXS and FXO port connectivity, it is possible to gracefully extend PSTN service from a single node to a number of remote locations. This eliminates the need for excessive PSTN lines and even the PBX itself!
Additional Applications
Cellular Backhaul
Backhaul, the transport of voice, video and data between the cell site and the carriers' Mobile Switching Center (MSC), is increasingly relying on fiber optic networks to handle the bandwidth necessary to support 3G/4G wireless and escalating mobile data and voice services (email, internet, video, etc.).
You can get 2 different solutions from TC Communications: a cost efficient 24-channel T1/E1 & Ethernet Multiplexer or a more comprehensive JumboSwitch T1/E1-over-Ethernet/IP Gateway.
With its Gigabit Ethernet and TDM over IP/Ethernet capabilities, the JumboSwitch provides a future-proof solution for helping Service Providers to deliver end-to-end Ethernet and/or T1/E1 from cell sites to the MSC.
The JumboSwitch also provides Service Providers with several additional benefits such as optical and power redundancy, multiple power options, economical housing options and an industrial grade version that can confidently be used in the harshest of environments.
Because of its versatility, the JumboSwitch can be used to connect cell sites in a variety of configurations and topologies, including:
As a primary IP-backbone self-healing ring network
As a string or ring topology sub-network off of a JumboSwitch node
As a sub-network off of a SONET/SDH multiplexer via GigE or T1/E1 interfaces
Versatile Connectivity
Linking voice devices over T1/E1 & T3/E3 circuits is a common but important application. With TC Communications a wide variety of connectivity options become available such as:.
Linking T1/E1's over Ethernet/IP
Transporting T3 over Ethernet/IP
Connecting T1/E1 signals from Cell Towers to Central Offices
Connecting remote PBXs
Adding Ethernet service to existing T1/E1 links
Linking Channel Banks, Customer Premise Equipment & M13 Muxes to DSX-1 Cross Connects
Extending the point of presence from Telco demarcation points
Application Diagrams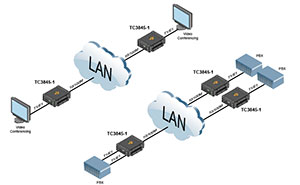 Extending T1/E1 OVer Ethernet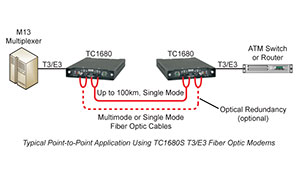 Using Fiber Optic Modems to Connect Point-to-Point with T3/E3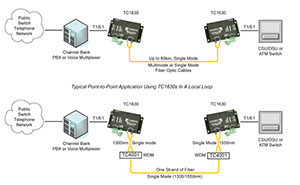 Using Fiber Optic Modems to Connect Point-to-Point with T1/E1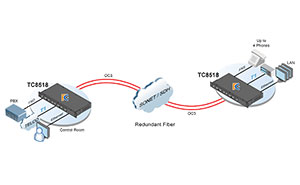 Multiplexing Voice & Data Through SONET/SDH
Related Products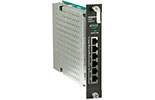 TC3845-1

T1/E1 over IP Gateway Card