TC8518
T1/E1, Data/Voice & Ethernet Fiber Optic Multiplexer (4-24 Ch.)
Features
The TC8518 T1/E1, Data/Voice & Ethernet Fiber Optic Multiplexer multiplexes 4/8/16 channels of T1/E1 and 3 Ethernet ports on single mode (1300/1550nm) or multimode (1300nm) fiber.
Multiplexes Up to 24 T1 or 20 E1 and 3 Ethernet Ports Over Fiber
Optional Voice (up to 8 channels FXS/FXO or 4 channels 2 Wire/4 Wire Analog) or Data (up to 8 channels RS-232/RS-422/RS-485)
Optical and Power Redundancy Standard
Key Features: Statistics Monitoring (T1/E1, Ethernet, Optics), Ethernet Rate Limiting, Remote Firmware Upgrade, Network Time Server (NTS), Temperature Monitoring and Loop Up/Down Codes
Management (Web, SNMP, Telnet,Console)
FXS/FXO Ports Support Modems & Faxes
High Temp (-20°C to +70°C) and Extreme Temp (-40°C to +80°C) Optional
Multimode or (1300nm) or Singlemode Optics (1300/1550nm)
90-260VAC Hot Swappable Power Standard Optional Power: 12VDC, 24VDC, -48VDC, 125VDC
Applications
Typical applications include connecting T1/E1 signals from Cell Towers to Central Offices, multiplexing T1/E1 links between PBX's, and adding Ethernet, Analog, Data or Telephone service to existing T1 or E1 fiber optic links.
Service Providers use the TC8518 as an efficient, cost effective method to provide their customers with Ethernet (100Mbps Total Bandwidth) for data and T1/E1 for voice. Analog channels can be used for radio applications.
The one fiber, bi-directional optic option doubles existing fiber optic cable capacity.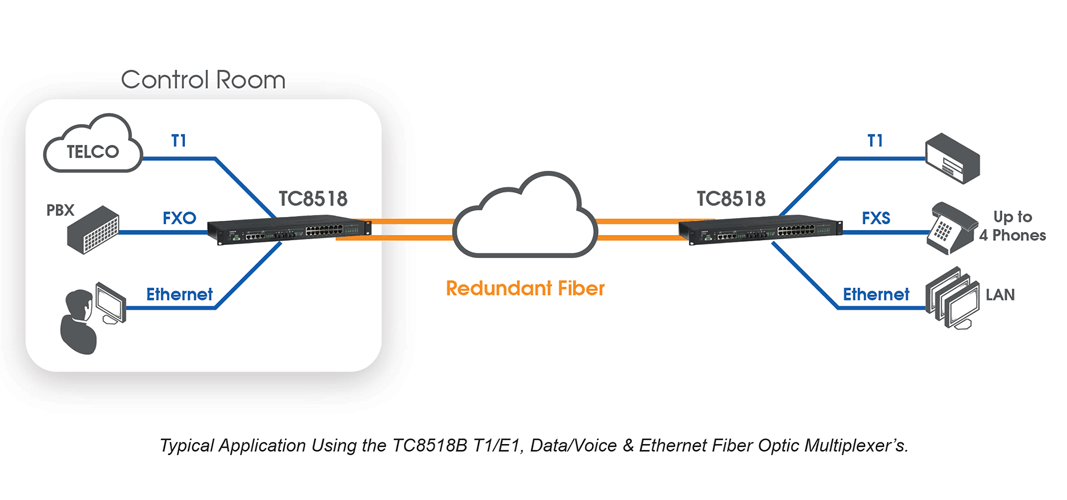 Specifications
Data Rates
T11.544 Mbps
E12.048 Mbps
Ethernet100 Mbps Total
Async RS-232/422/485Up to 115K
Console9.6K
Audio300 Hz to 3.4 Khz
Channel Capacity
T14, 8, 16, 20*, 24*
E14, 8, 16, 20*
Ethernet3 Port Switch
2-Wire/4-Wire Analog 4
RS-232/422/4854 or 8
Telephone (FXS or FXO)4 or 8
Optical
TransmitterELED/LASER**
ReceiverPIN Diode
Wavelength1300nm Multimode, 1300/1550nm Single Mode
Optical ConnectorsSC/ST
Loss Budgets **
LED15dB MM @62.5/125µm
LASER20dB SM @9/125µm
Electrical
InterfaceT1, E1 (G.703) IEEE 802.3, T1 (100 Ohm), E1 (120 Ohm)
ConnectorsRJ48C
E1 (75 Ohm) ConnectorsBNC***
10/100 Ethernet ConnectorsRJ45F
Telephone/Analog/RS232/422/485RJ11F
Console PortRJ45F
System
Bit Error Rate1 in 10

10

or Better
Visual Indicators
System LEDsPWR (A, B), Alarm
Channel Status (each port)On/Off
Optical StatusSync, RDI,OPT-A, OPT-B, Use-B, Loc Test, Rmt Test, RCOM
EthernetLink/Act, Full/Col, 100M
Diagnostic Functions
Local and Remote Loopback for Optics, T1/E1, and Ethernet
Power
Standard90-260VAC, 50/60Hz
Optional12VDC, 24VDC, -48VDC, 125VDC
Power Consumption <30W
Temperature
Operating-10°C to 50°C
High Temp (optn)-20°C to 70°C
Extreme Temp (optn)-40°C to 80°C
Storage-40°C to 90°C
Humidity95% non-condensing
Physical (Standalone Unit)
Height(4.22 cm) 1.66"
Width(48.26 cm) 19"
Depth(30.5 cm) 12"
Weight(1.36 kg) 3.0 lbs
*No telephone, analog, serial interface options available
**Contact factory for higher requirements
***With optional RJ48C to BNC adapter
Note: Information contained in this data sheet is subject to change without prior notice.
Product version may differ from current manual. For assistance or proper manual version please contact Technical Support.