Objective
Modernize equipment and software for a microwave and fiber optic system
Products used
Highlights
Preserved existing DS-3 and OC-3 microwave
Vastly improved audio quality
Provided 3X redundancy using JumboSwitch
Worked seamlessly with different radios
Supported VoIP, MoIP, T1, DS-3, OC-3, 2/4-wire analog, Ethernet and fiber
Replaced nine old NewBridge ATMs with minimal downtime
Challenge: Identifying a modern solution
Created at a cost of $14 million in response to the 9/11 terrorist attacks on the World Trade Center, STARCOMM was first deployed in 2006 to allow police, fire and emergency first responders to immediately share information between all entities in real time.
The 2006 STARCOMM network consisted of a multi-site, 6-channel digital 800 MHz Motorola P25 trunked radio system. The Motorola system operated on a 5-site Alcatel microwave system with 4 OC3 sites, 8 radio rings, 1 DS3 sites and 4 radio hot standby spurs.
The original Alcatel system used multi-service concentrators and intelligent T1 multiplexers along with 2 servers to operate a primary and backup system manager software system for management and alarm monitoring. This system linked all STARCOMM and 911 sites back to the Woodbury County 911 and Dakota County 911 PSAPs by single mode fiber optics.
The 911 system consisted of a 7-site Woodbury County Fire paging and Talk-Back radio system that used the STARCOMM microwave system along with three 4.9 microwave system links to the Alcatel microwave system.
Much of the STARCOMM upgrade focused on modernizing equipment and software that operated its microwave radio and fiber optic system. Some of the more pressing performance and reliability issues were equipment obsolescence and failures, network management and network expansion.
Additional needs included:
Standard 2/4-wire telephone and radio circuits
T1 circuit connectivity
PBX telephone dial tone and ring down circuits
Windows-based network management software
Redundant hot-standby -48VDC and 120AC power supplies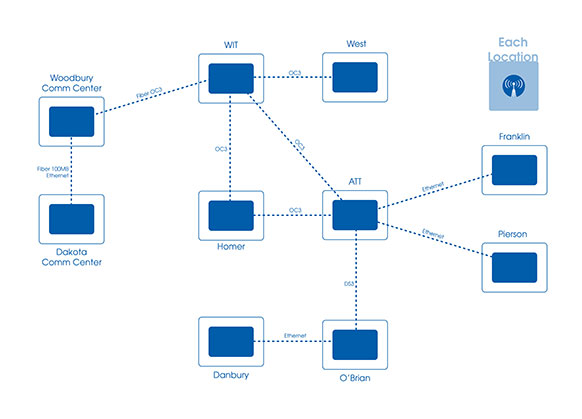 "One of the biggest concerns with STARCOMM management was cost of ownership, but the main technical challenge was keeping downtime to a minimum while maintaining a functioning system throughout the entire project. Two other big challenges were interfacing all of the different types of legacy circuits into a platform that would ride across the microwave and the need to preserve microwave backhauls."


- Tony Carpenter, Vice President, Calhoun Communications
Solution: Upgrading with JumboSwitch
To design and implement the STARCOMM upgrade, the consortium of public safety agencies from three Siouxland counties – Union, Dakota and Woodbury – selected Calhoun Communications, a local systems integrator that provided maintenance for STARCOMM's current system and specialized in public safety communications networks. Calhoun's Vice President, Tony Carpenter, called the upgrade project's requirements challenging.
Calhoun Communications reached out to multiple vendors to find the best replacement solution for the existing STARCOMM network. It ultimately recommended the JumboSwitch Multi-Service Ethernet Platform from TC Communications.
STARCOMM found the cost of ownership estimates to be very attractive.
"The JumboSwitch fit our needs because it not only covered what our existing network was designed to do, but it also was designed to change the existing microwave radio network to a modern IP Radio system. And because of costs and future maintenance and warranties, we just felt that TC Communications was the direction to go."


- Glenn Sedivy, Director of the Woodbury County Communications Center
STARCOMM replaced its aging multi-service concentrators and some T1 multiplexers with a modern JumboSwitch Multi-Service Ethernet Platform. Using JumboSwitch, they created a single interoperable network platform that uses Radio over IP (RoIP), Modem over IP (MoIP), T1, Ethernet and VoIP interfaces over OC-3, DS-3, fiber and microwave radio transport mediums. This enabled all voice communications for law enforcement and emergency services to be shared between all parties in real time.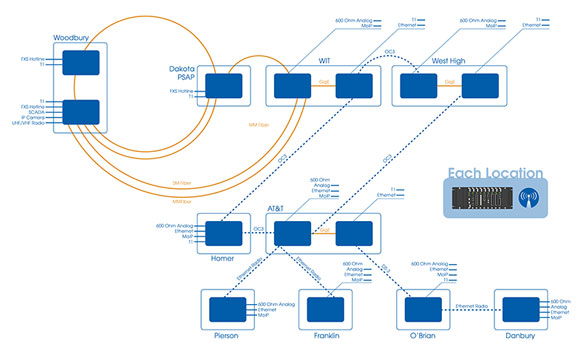 Results: Migrating, improving, managing
Legacy to IP migration
Using an advanced multi-service Ethernet platform (MSEP) gave STARCOMM the flexibility to replace existing legacy equipment and cutover to the new system with minimal downtime. In fact, Glenn noted that "police officers, firefighters and other end users had no clue that we were even doing anything to the system" during the cutover.
A key reason the JumboSwitch prevented major downtime during the installation was its ability to run over the existing SONET network, according to Tony. "It also allowed for smoother cutover of T1, 2/4-wire circuits and phone service, and added MoIP capability for alarm monitoring communications."
Because the microwave system is set up in a ring topology, the JumboSwitch units can be integrated one at a time into the network. Linking up to 60 microwave circuits directly to the JumboSwitch with a single connection was an important improvement over the previous MSEP, which required cutting over one circuit at a time.
Improved audio quality
The JumboSwitch also improved audio quality, performance and reliability and met all STARCOMM's interoperability requirements, including providing interfaces such as VoIP, MoIP, T1 circuits, 2- and 4-wire (analog) circuits, Ethernet, fiber, OC3 and DS3.
STARCOMM was pleasantly surprised by how much the new JumboSwitch network improved voice audio quality.
"We didn't realize we had some problems with the audio quality until we switched over to the JumboSwitch network. The radio technicians said that they couldn't believe the difference in audio quality between the old system and the new JumboSwitch system. Until you actually know what it should sound like, it's hard to believe it could make that much difference...but it did."


- Glenn Sedivy, Director of the Woodbury County Communications Center
Simplifying network management
Implementing the JumboSwitch Windows-based TCView® Network Management System (NMS) provided STARCOMM with several benefits.
"TCView was much easier to operate, less costly to maintain and more user friendly than the previous NMS. Now, one can better anticipate possible system issues before they become a major problem. For example, after the system was installed, it showed a problem with one of the fiber optic links that was unknown before the install. The return path had a 3db lower signal, which caused some packet loss. The problem was found in a bad cross connect."


- Tony Carpenter, Vice President, Calhoun Communications