TC3844-3
Ethernet/IP-Over-T3/E3 Gateway
JumboSwitch® offers an Ethernet-over-T3/E3 interface card as a rugged gateway for connecting a JumboSwitch® or any third party Ethernet network over existing TDM circuits.
The JumboSwitch® series is a TDM over IP/Ethernet based solution designed to emulate time-division multiplexing over packet switched networks (PSN). TDM over IP/Ethernet is a TDM pseudowire (PW) technology making it possible to provision E1, T1, E3, T3, STS-1 and serial data services across PSN's such as IP, MPLS or layer 2 Ethernet Networks.
For assistance with this product or to request a user manual please contact Technical Support.
Features
Fast Ethernet Transport over Framed & Unframed T3 or E3
IEEE 801.p QoS with four queues
Ethernet and T3/E3 Statistics Monitoring
VLAN Tagging and Priority Labeling
Manage Via Web, SNMP, Serial Console, Telnet
Temperature & Power Consumption Monitoring
Extreme Temp (-40°C to +80ºC) Optional
Meets or Exceeds IEC 61850-3, IEEE1613 & NEMA TS-2 Standards
Member of the JumboSwitch® Product Family
Applications
Bridging Ethernet LANs over Existing T3/E3 Telecom Network
Extending Ethernet Networks by Utilizing TDM Telecom Infrastructure (i.e. T3/E3 Landline, or T3/ E3s/SDH Microwave Carrying T3/E3)
Demarcation Between the Carrier's and Customer's Networks
Bonded Transparent LAN Service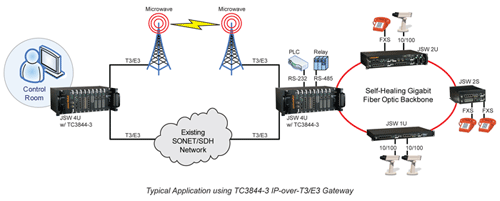 Specifications
Electrical
T3 Interface
ConnectorCo-axial, BNC
Line Termination75Ω, unbalanced
Data Rate44.736Mbps
Line CodeB3ZS
FramingUnframed M23 C-Bit
ComplianceGR-499-CORE ANSI T1.102, 107
E3 Interface
ConnectorCo-axial, BNC
Line Termination75Ω
Data Rate34.368Mbps
Line CodeHDB3 AMI
FramingUnframed G.751 G.832
ComplianceITU-T G.703
Ethernet Interface
ConnectorElectrical RJ-45
Type10/100Base-T
ComplianceIEEE 802.3
System
Bit Error Rate1 in 10

9

or Better
Regulatory Approval
CE, FCC Part 15, CISPR (EN55022) CLASS A, IEC 61850-3, IEEE 1613, NEMA TS-2
Power
Standard12VDC
Optional24, -48 VDC 90-260 VAC, 50/60Hz
Power Consumption< 10W
Operating Temperature
Hi-Temp-20°C to 70°C
Extreme Temp-40°C to 80°C
Storage
Temperature-40°C to 90°C
Humidity95% non-condensing
Physical (4-Channel Standalone)
Height(3.15 cm) 1.24"
Width(17.78 cm) 7.0"
Depth(22.86 cm) 9.0"
Weight(0.3 kg) 0.75 lbs
Ordering
For More Information