TC8116
Multi-Interface Fiber Optic Data Multiplexer (8/16 ch)
The TC8116 Serial Data Fiber Optic Multiplexer is an inexpensive method to connect asynchronous & synchronous terminals, printers, & status collecting devices.
The TC8116 fiber optic multiplexer multiplexes RS-232, RS-422, RS-485 (2 or 4 wire), TTL & Dry Contact Closure interfaces. It is available in 8 or 16 channel versions, each with or without Control/Handshaking.
Product version may differ from current manual. For assistance or proper manual version please contact Technical Support.
Features
Mix or Match Field-Interchangeable Interfaces: RS-232, RS-422, RS-485, TTL, & Dry Contact Relays
Data Rates up to 38.4 Kbps*
Built-In Power Redundancy
Optional Optical Redundancy
Local Dry Contact Relay Alarm
Built-In Test Signal Generator
Local & Remote Loopback
Multimode or Single Mode (850/1300/1550nm)
Hardened Temperature Version (optional)
Applications
The TC8116 Fiber Optic Multiplexer provides a flexible, inexpensive method for connecting async/sync terminals, printers, and status collecting devices. It is also used in harsh environments where EMI/RFI interference, ground loops and lightning conditions may exist.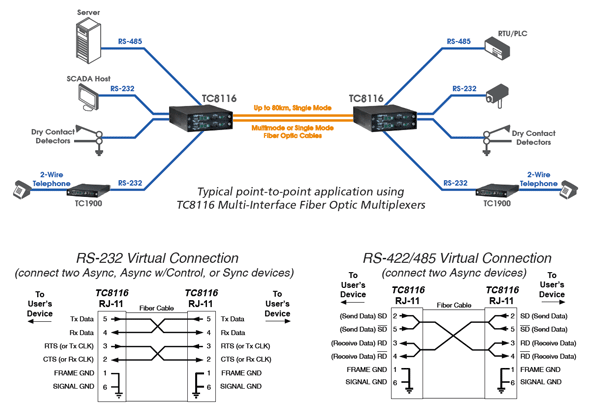 Specifications
Data Rates
Per ChannelUp to 38.4 Kbps
Channel Capacity
Async8 or 16
Sync (RS-232 only)8 or 16
Optical
TransmitterLED/ELED
ReceiverPIN Diode
Wavelength850/1300nm MM, 1300/1550nm SM
Fiber Optic ConnectorsST, Optional FC
Loss Budget * - 850/1300/1550nm
Multimode @ 62.5/125µm15dB
Single Mode @ 9/125µm20dB
Visual Indicators
Channel Status (each ch.)Tx, Rx
SystemPWR A, PWR B, VccA, VccB, ALM
OpticSYNC, RxA, RxB, USE RxA, Use RxB, OPTIC TxB, OPTIC RxB
Enable Anti-Streaming (TC2801)Yes (TC2801)
System
Bit Error Rate1 in 10

9

or better
Electrical
ConnectorRJ11 Female
Interface (standard)RS-232
Interface (optional)TTL, 2 or 4-wire RS-485, RS-422 and Dry Contact Relay, or any combination*
Alarm
Dry ContactNormal OPEN
Power
Standard12VDC @400mA
Optional24VDC, -48VDC, or 115/230VAC w/ ext power cube
Temperature
Operating-10°C to 50°C
Hi-Temp (optional)-20°C to 70°C
Storage-40°C to 90°C
Humidity95% non-condensing
Physical (Standalone Unit)
Height(6.71 cm) 2.64"
Width(18.13 cm) 7.14"
Depth(24.89 cm) 9.80"
Weight(1.36 kg) 3 lbs
* Contact factory for higher requirements
Ordering
For More Information