TC1880
RS232 Fiber Optic Multiplexer ("Micro" 4/8 ch; Async/Sync)
The pocket-sized 8 channel TC1880 "Micro" RS232 Fiber Optic Multiplexer offers the lowest per-channel cost of any comparable fiber optic mux currently available.
Product version may differ from current manual. For assistance or proper manual version please contact Technical Support.
Features
Multiplexes Async/Sync Simultaneously
Data Rates up to 56 Kbps
Multimode or Single Mode (850/1300/1550nm)
Small Size (5/6" x 4" x 13/4")
Up to 8 Async Channels
Up to 4 Sync Channels (Ext. Clock)
Extend Up to 8 Telephones with TC1900 Quick-Talk Telephone Extender
Hardened Temperature
Applications
The TC1880 Micro Multiplexer is a simple and cost effective method for connecting large numbers of async or synchronous terminals, printers and status collecting devices. It is typically used in harsh environments where ground loops, EMI/RFI interference and lightning conditions may affect transmission signal quality.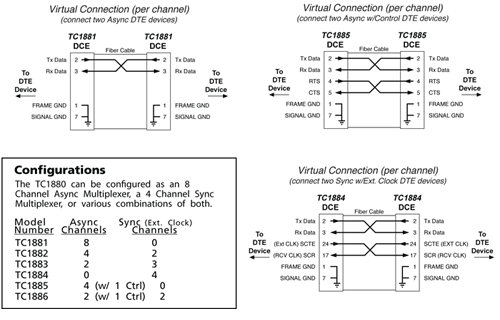 Specifications
Data Rates (per channel)
Async or Sync (w/ ext. clock)up to 56 Kbps
Channel Capacity
Channel Capacity8
Optical
TransmitterLED/ELED
ReceiverPIN Diode
Wavelength850/1300nm MM, 1300/1550nm SM
Fiber Optic ConnectorsST, Optional FC
Loss Budget * - 850/1300/1550nm
Multimode @ 62.5/125µm15dB
Single Mode @ 9/125µm20dB
Electrical
ConnectorDB25 Female
Interface(DCE) RS-232
System
Bit Error Rate1 in 10

9

or better
Visual Indicator
LEDsPower, Sync, Signal Presence of Each Channel
Power
Standard12VDC @250mA
Optional24VDC, 115/230VAC (w/external power cube)
Temperature
Operating-10°C to 50°C
Hi-Temp (optional)-20°C to 70°C
Storage-40°C to 90°C
Humidity95% non-condensing
Physical (Standalone Unit)
Height(2.24 cm) 0.88"
Width(10.05 cm) 3.96"
Depth(4.40 cm) 1.73"
Weight(104.0 gm) 3.67 oz
Cable Assembly*1 Foot Long
* Contact factory for higher requirements
Ordering
For More Information