TC8108
Multi-Interface Fiber Optic Data Multiplexer (8-to-128 ch. "Channel Stacker" )
Features
The TC8108 8-128 Channel RS232, RS422, RS485, TTL & Dry Contact Data Fiber Optic Multiplexer is a cost effective way to connect large numbers of serial devices.
The TC8108 "Channel Stacker" Serial Data Fiber Optic Multiplexer is a reliable and economical solution for linking large numbers of asynchronous or synchronous printers, terminals & status collecting devices. It provides several key features including field interchangeable interfaces, modular expandability from 8 to 64 channels & power/optical redundancy.
Mix or Match Field-Interchangeable Interfaces: RS-232, RS422, TTL, & Dry Contact Relays
Data Rates up to 38.4 Kbps*
8 to 64 Channels (Expandable to 128)
Optional Optical Redundancy
Local Dry Contact Relay Alarm
Built-In Test Signal Generator
Local & Remote Loopback Features
Multimode or Single Mode (850/1300/1550nm)
Rackmount or Standalone
Applications
The "Channel Stacker" is an inexpensive, reliable and flexible method for connecting large numbers of printers, terminals and status collecting devices. It is also used in harsh environments where EMI/RFI interference, ground loops or lightning conditions may exist.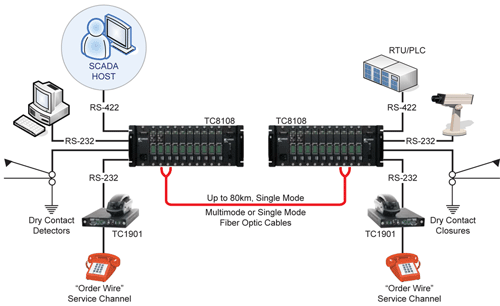 Specifications
Data Rates
Async 8/16/24/32 Ch.Up to 38.4 Kbps
Async 40/48/56/64 ChUp to 19.2 Kbps
Async 128 ChannelUp to 16 Kbps
Sync (up to 16 Channels w/Ext. Clk)Up to 38.4 Kbps
Sync (32 Channel Version w/Ext. Clk)Up to 19.2 Kbps
Channel Capacity
Async8; stackable to 64 Channels (up to 128 w/Fan-Out Cables)
Sync 4; stackable to 32 Channels
Optical
TransmitterLED/ELED
ReceiverPIN Diode
Wavelength850/1300nm MM, 1300/1550nm SM
Fiber Optic ConnectorsST or FC
Loss Budget * - 850/1300/1550nm
Multimode @ 62.5/125µm15dB
Single Mode @ 9/125µm20dB
Visual Indicators
Channel Status (each ch.)Tx, Rx
SystemPWR A, PWR B, VccA, VccB, Alarm
OpticRxA, RxB, Optic Rx, FCLK
System
Bit Error Rate1 in 10

9

or better
Electrical
ConnectorRJ11 Female
Interface (standard)RS-232, RS-422, Dry Contact Relay
Interface (custom)TTL, 2 or 4-wire 485* or a combination
Alarm
Dry ContactNormal OPEN
Power
Standard12VDC @600mA
Optional115/230VAC w/ external cube or card
Temperature
Operating-10°C to 50°C
Hi-Temp (optional)-20°C to 70°C
Storage-40°C to 90°C
Humidity95% non-condensing
Physical (Standalone Unit)
Height(17.7 cm) 7.0"
Width(3.2 cm) 1.25"
Depth(23 cm) 9.0"
Weight(280 gm) 8 oz
* Contact factory for higher requirements
Product version may differ from current manual. For assistance or proper manual version please contact Technical Support.