TC1200
RS232 Fiber Optic Modem w/ Handshaking ("Pocket Rocket"; async)
Features
The TC1200 "Pocket Rocket" RS-232 Asynchronous Handshaking Fiber modem can link three data communications devices or one device with bi-directional control signals.
It functions as a 3-channel multiplexer by using control signal channels as data channels.
Async Data Rates up to 120 Kbps
3 Independent Channels (or 1-chan w/ handshake)
5 Control Signals (RTS, CTS, DTR, DSR & CD)
Multimode or Single Mode (850/1300/1550nm)
Six Diagnostic LEDs
Local & Remote Loopback
Hardened Temperature Version (optional)
Distances up to 80 Km
Applications
Typical applications include linking remote terminals or printers to host computers, tail circuits to existing multiplexers and extending data communications links.
Fiber Optic Modems are also ideal for connecting data communications devices in harsh manufacturing or outdoor environments where EMI or RFI interference, ground loops and lightning are prevalent.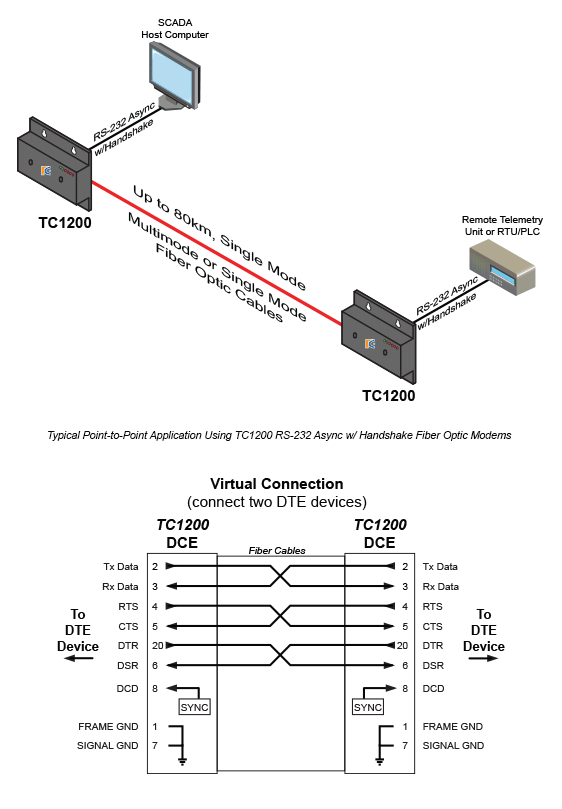 Specifications
Data Rates
Asyncup to 120 Kbps
Optical
TransmitterLED/ELED
ReceiverPIN Diode
Wavelength850/1300nm MM, 1300/1550nm SM
Fiber Optic ConnectorsST, Optional FC
Loss Budgets * - 850/1300/1550nm
Multimode @62.5/125µm15dB
Single Mode @9/125µm20dB
Electrical
ConnectorDB25 Male
Interface(DCE ONLY) RS-232
System
Bit Error Rate1 in 10

10

or Better
Visual Indicators
LEDsPWR, DTR, DSR, RTS, CTS, RD, TxD, DCD (SYNC)
Power
Standard12VDC @250mA
Optional115/230VAC (with External Power Cube)
Temperature
Operating-10°C to 50°C
Hi-Temp (optional)-20°C to 70°C
Storage-40°C to 90°C
Humidity95% non-condensing
Physical (Standalone Unit)
Height(2.24 cm) 0.88"
Width(10.05 cm) 3.96"
Depth(7.77 cm) 3.06"
Weight(104.0 gm) 3.67 oz
* Contact factory for higher requirements
Product version may differ from current manual. For assistance or proper manual version please contact Technical Support.