TC3007
Multimode to Single Mode Converter/Repeater up to 200 Mbps(1 fiber bi-directional)
Features
Ideal for maximizing fiber cable usage, TC3007 is a combination Fiber Optic Mode Converter/Repeater and a 2-Channel Wave Division Multiplexer. WDM takes advantage of fiber's bandwidth by transmitting and receiving through a single fiber strand. This benefits users by effectively doubling existing fiber cable capacity
Transparent to incoming data and protocols, it is compatible with most networking technologies including Ethernet, Token Ring, TAXI, OC1/OC3, ATM, FDDI and SONET. Key features including Local/Remote Loopback, Test Signal Generator & a Dry Contact Alarm.
Doubles Existing Fiber Cable Capacity
Converts Multimode to Single Mode (and vice versa)
Data Rates up to 200 Mbps
Local Dry Contact Alarm Relay
Test Signal Generator & 8 Indicators
Local & Remote Loopback
Built-In Audible Alarm Buzzer
Built-In Redundant Power Supply
Standalone or Rackmount (Interchangeable)
Applications
Because of its multiplexing capability, the TC3007 is often used to increase existing fiber optic cable capacity in LAN or Telephony environments that require connecting different fiber types or wavelengths, regenerating optical signals and/or extending transmission distances. Typical environments include PABX, Ethernet, Fast Ethernet, Token Ring, FDDI, ATM and SONET (OC1 & OC3)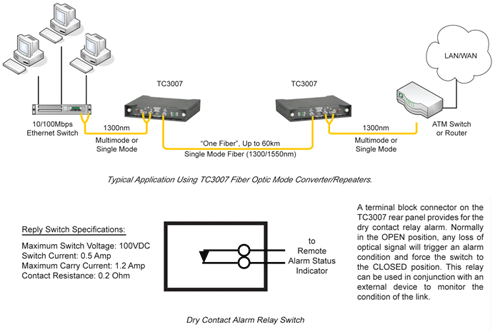 Specifications
Data Rates
Ratesup to 200 Mbps
Optical - Single Fiber Side
TransmitterLASER
ReceiverPIN Diode
Wavelength1300/1550nm Single Mode
Fiber Optic ConnectorsSC, ST, FC
Loss Budgets - 1300/1550nm
LASER20dB SM @9/125µm
Optical - Dual Fiber Side
TransmitterLED/ELED
ReceiverPIN Diode
Wavelength850/1300nm Multimode, 1300/1550nm Single Mode
Fiber Optic ConnectorsST, Optional FC
Loss Budgets - 850/1300/1550nm
Multimode @62.5/125µm15dB
Single Mode @9/125µm20dB
System
Bit Error Rate1 in 10

10

or Better
Visual Indicators
PWRA, PWRB, VCCA, VCCB, MM RX, MM TX, SM RX, SM TXYes
LOCLB, RMTLB, SM LB, SIG GEN, LK TSTYes
Alarm
Dry ContactNormal OPEN
Power
Standard12VDC @500mA (max)
Optional24VDC,-48VDC,125VDC, 115/230VAC with Power Cube
Temperature
Operating-10°C to 50°C
Hi-Temp (optional)-20°C to 70°C
Storage-40°C to 90°C
Humidity95% non-condensing
Physical (Rackmount Unit)
Height(3.53 cm) 1.39"
Width(18.13 cm) 7.14"
Depth(16.59 cm) 6.53"
Weight(512 gm) 1.5 lbs
Product version may differ from current manual. For assistance or proper manual version please contact Technical Support.