TC3005
Multimode to Single Mode Converter/Repeater (& vice versa) up to 200 Mbps
Features
The TC3005 Fiber Optic Mode Converter converting multi-mode to single-mode (& vice versa) with plug and play simplicity for data transmission up to 200 Mbps.
Converts or Repeats Multimode to Single Mode (and vice versa)
Data Rates up to 200 Mbps
Distances up to 100km
Local Dry Contact Alarm Relay
8 Diagnostic LED Indicators
Built-In Redundant Power Supply
Two-way Single Fiber Communication (option, single mode)
Applications
The MAXI Mode Converter is used to convert multimode to single mode, or vice versa, in a variety of LAN and Telephony communication environments including PABX, Ethernet, Token Ring, FDDI, ATM & SONET (OC1 & OC3). This conversion is done to cross-connect different fiber types, regenerate optical signals and/or extend transmission distances.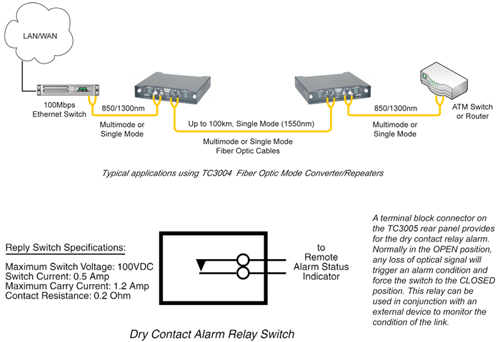 Specifications
Data Rates
Ratesup to 200 Mbps
Optical
TransmitterELED/LASER
ReceiverPIN Diode
Wavelength850/1300nm Multimode, 1300/1550nm Single Mode
Fiber Optic ConnectorsSC, ST, FC
Loss Budgets *
LED16dB 850/1300nm
Multimode @62.5/125 nm
ELED16dB 1300/1550nm
Single Mode @9/125 nm
LASER25dB 1300nm
Single Mode @9/125 nm
HI-PWR LASER34dB 1300/1550nm
Single Mode @9/125 nm
System
Bit Error Rate1 in 10

10

or Better
Visual Indicators
PWRA, PWRB, VCCA, VCCBYes
MM RX, MM TX, SM RX, SM TXYes
Alarm
Dry ContactNormal OPEN
Power
Standard12VDC @800mA (max)
Optional24VDC, -48VDC, or 115/230VAC with Power Cube
Temperature
Operating-10°C to 50°C
Hi-Temp (optional)-20°C to 70°C
Storage-40°C to 90°C
Humidity95% non-condensing
Physical (Rackmount Unit)
Height(3.53 cm) 1.39"
Width(18.13 cm) 7.14"
Depth(16.59 cm) 6.53"
Weight(512 gm) 1.5 lbs
Product version may differ from current manual. For assistance or proper manual version please contact Technical Support.