News and Product Updates
11/16/2017 - Mini Channel Bank Series: Voice over T1/E1 Multiplexer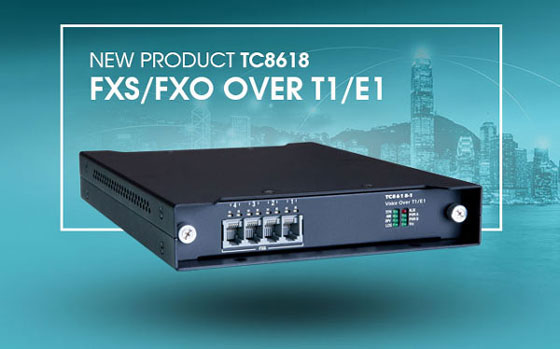 TC8618
Phone (FXO and FXS) over T1/E1 is now available from the Mini Channel Bank series. TC Communications released the TC8618-1 and TC8618-2 this month to add to its line of T1 Multiplexers.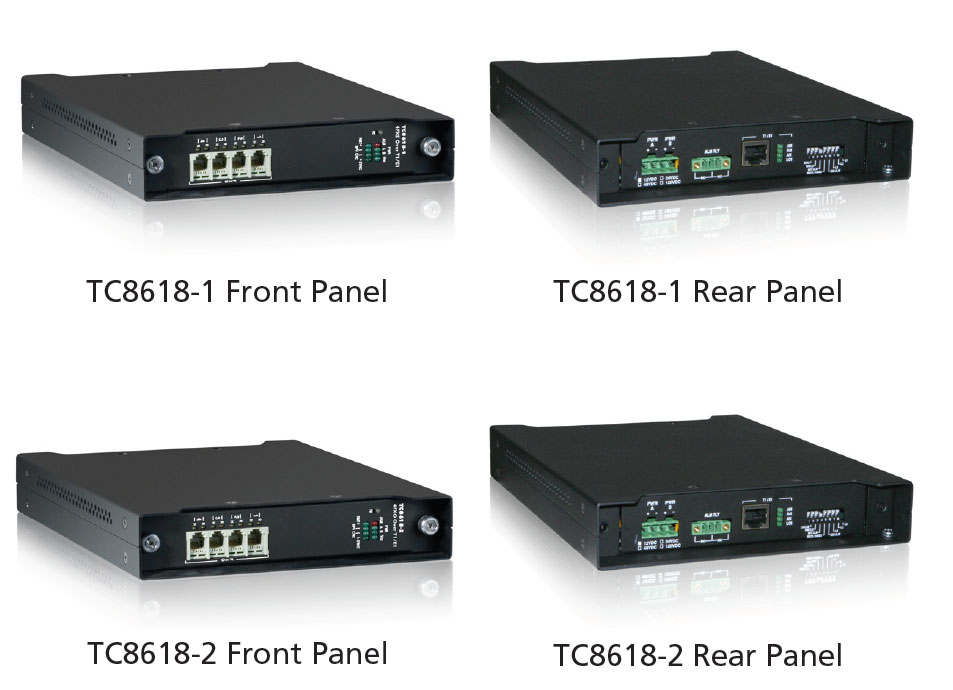 TC8618-1 and 2 was designed to be a simple solution to replace leased copper lines using existing T1 or E1 lines. Instead of worrying about replacing an entire network use one device to preserve equipment. Each device creates a point-to-point connection with up to 4 channels of FXS or FXO on one device for local or Remote applications.
Each TC8618 is equipped with the R2 (Reset*Reset) troubleshooting button. Instead of driving to a remote site, the R2 button allows the user to simply mirror the remote device's alarm status from the central location. Then with a series of simple button presses, the R2 button will also reset the latch on the remote device directly from the central office. Save time and diagnose potential network failures faster.
Mini Channel Bank Series
The 8618 is a part of the Mini Channel Bank series designed to provide network managers flexibility to leverage T1/E1 circuits. Setup is easy when only a few channels are required instead of a complex system. Isolate substations using a T1 network and the TC8610. Add low cost analog or dry contact links using TC8614. Transmit C37.94 over our T1/E1 multiplexer device, the TC8616. Each device is compliant with ISO 9001:2008 standards.
Dialing and Paging Features
Why T1?
Utility and Public Safety network managers must navigate increasingly complex NERC/CIP rules as industrial communications migrate toward IP. Not to mention already stringent requirements of critical communications. Although many products have become IP based, many still have T1 connections. There are new ways to take advantage of T1 connections.
One New England public safety network faced disruptions in service if they were unable to find a replacement for their FDDA 4-wire analog lines. Aged and faded analog lines were also present throughout the network. These lines caused unwanted signals and cross talks. After testing both T1 and Ethernet options, the town opted for T1 connections over Ethernet due to availability and cost.
In Arizona a city water department was concerned about downtime and training associated with updating their SCADA network. Network managers wanted a solution that would update their core network but also keep legacy end devices on a familiar T1 network. The city opted to upgrade to Ethernet microwaves with T1 handoffs connected to TC8610 devices.
Why TC?
TC Communications specializes in designing products for legacy to IP migration in critical communication networks. TC strives to surpass customer expectations in service and products. Engineering, manufacturing and support are all based in Irvine, California.