TC3715
Unmanaged 10/100 Fiber Optic Ethernet Switch (6Tx + 1/2Fx))
The TC3715 10/100 6-Port Ethernet Switch is a low cost, flexible bandwidth solution for high traffic industrial and commercial fiber optic networks.
Featuring distances up to 80km, the TC3715 is a compact Ethernet network solution that provides a 100Base-FX port combining Ethernet Switching and Fiber Optic technology to boost total network bandwidth.
Product version may differ from current manual. For assistance or proper manual version please contact Technical Support.
Features
6 Ethernet 10/100-Base Auto-Sensing UTP Ports
1 or 2 Fiber Optic 100Base-FX Ports
One Fiber Bi-Directional Communication (optional)
Bandwidth Control (Optional)
Web-Based Configuration (available on Bandwidth Control versions)
Distances up to 80km
Multimode or Single Mode (1300/1550nm)
Industrial Hardened (optional)
Exceeds Pertinent NEMA & Caltrans Traffic Control Specifications
Rackmount
Applications
The TC3715 10/100 Industrial Ethernet Switch is a low cost and flexible bandwidth solution to efficiently handle the heavy traffic of local workgroups--- reducing the need of expensive routers that usually cater to the network backbone.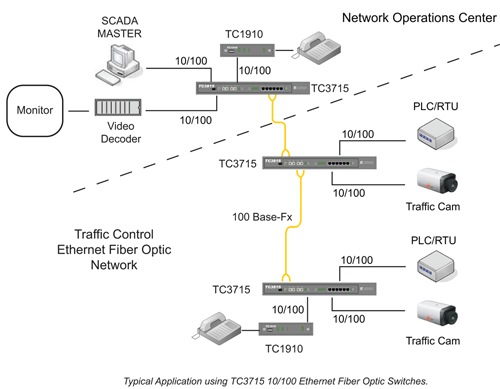 Specifications
Data Rates
Rates10/100 Mbps (auto-sensing)
Bandwidth Control (optional)128K, 256K, 512K, 1M, 2M, 4M, 8M, 32M, 64M
Optical
TransmitterELED/LASER *
ReceiverPIN Diode
Wavelength1300nm Multimode, 1300/1550nm Single Mode
Fiber Optic ConnectorsST, Optional FC, SC
Loss Budgets * - 1300/1550nm
LED/ELED15dB MM @62.5/125µm
LASER20dB SM @9/125µm
InterfaceEthernet 100Base-Fx
Visual Indicators
System LEDsPWR A, PWR B, Vcc
Port Status (each port)100M, FULL/COL, LINK/ACT
Electrical
Switch/HUB/Bridge Ports6 x RJ-45 Female
InterfaceEthernet 10/100Base-T
Power
Standard12VDC @ 500mA
Optional24VDC, -48VDC, 125VDC, or 115/230VAC
Temperature
Operating-10°C to 50°C
Hi-Temp (optional)-20°C to 70°C
Extreme Temp (option)-40°C to 80°C
Storage-40°C to 90°C
Humidity95% non-condensing
Physical (Rackmount Unit)
Height(3.53 cm) 1.39"
Width(48.26 cm) 19.0"
Depth(16.59 cm) 6.53"
Weight(544 gm) 1.2 lbs
Contact factory for higher requirements
Ordering
For More Information