TC3240
3-Port Switching / Bridging 10/100 Ethernet Media Converter w/ Rate Control
The TC3240 4-port Switching/Bridging Fiber Optic Ethernet Media Converter converts or connects UTP (10/100Base-TX) networks to Fiber Optic (100Base-FX) networks.
The TC3240 includes a built-in switch that enables distances up to 100km without additional hardware (e.g. Switch or Router). Security features include allowing up to four different IP address aliases, manageable privilege levels for users and password protection. VLAN is also implemented for secure access.
Product version may differ from current manual. For assistance or proper manual version please contact Technical Support.
Features
3 Ports 10/100 Base-T
1 Port 100FX: Multimode (1300nm) or Single Mode (1300/1550nm)
Rate Control and VLAN (IEEE 802.1Q)
Network Management (Web, SNMP, Telnet)
Remote Firmware Upgrade
Extreme Temperature version exceeds NEMA & CALTRANS specs (-40°C to 80°C)
One Fiber Bi-Directional Optic Optional
Configuration Save and Load
Power Monitoring
Applications
The TC3240 is frequently used by Data Service Providers to control the bandwidth they offer to customers. It is also used for its ability to transmit over long distances (100km or farther) without connecting to additional hardware, e.g. a Switch or Repeater. The Hardened Temperature option enables it to be used in extreme environments.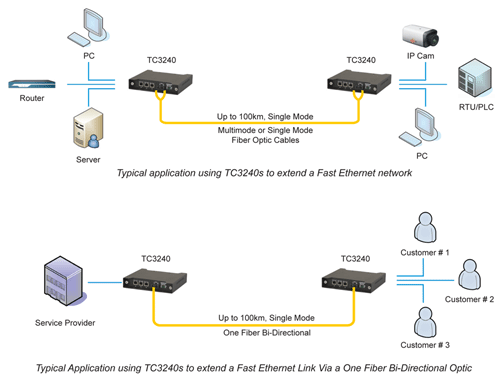 Specifications
Data Rates (per channel)
Rate10/100 Mbps (auto-sensing)
Rate Control32K, 64K, 96K, 99.9M, 100M, 32K Increments
Optical
TransmitterELED/LASER *
ReceiverPIN Diode
Wavelength1300nm MM, 1300/1550nm SM
Fiber Optic ConnectorsST, Optional FC or SC
Loss Budget * - 1300/1550nm
Multimode @ 62.5/125µm15dB
Single Mode @ 9/125µm20dB
Electrical
ConnectorRJ45 Female
Interface10/100Base-T
Diagnostic Functions
Traffic StatisticsYes
Power
Standard12VDC @<400mA
Optional24VDC, -48VDC, 125VDC, or 115/230VAC with External Power Cube
System
Bit Error Rate1 in 10

10

or better
Alarm
Dry ContactNormal OPEN
Visual Indicators
SystemALM, LINK, FULL, 100M, PWR A, PWR B, VCC, DFLT
Temperature
Operating-10°C to 50°C
Hi-Temp(optional)-20°C to 70°C
Hardened (optional)-40°C to 80°C
Storage-40°C to 90°C
Humidity95% non-condensing
Physical (Standalone Unit)
Height(3.53 cm) 1.39"
Width(18.13 cm) 7.14"
Depth(16.59 cm) 6.53"
Weight(544 gm) 1.2 lbs
* Contact factory for higher requirements
Ordering
For More Information