TC2800
Multi-Drop Fiber Optic Data Multiplexer w/Self-Healing Ring (4/8/12 ch.)
Features
The TC2800 RS232/422/485 Multi-Drop Fiber Optic Multiplexer is designed for Ring & Self-Healing Ring topologies in SCADA, Transportation & Process Control networks.
Intended as a cost saving connectivity solution for legacy poll-response (Master/Slave) networks, the TC2800 Multi-Drop Fiber Optic Multiplexer interconnects up to 12 devices with independent RS-232 and/or RS-485 interfaces over single mode or multimode fiber optic cable.
Sophisticated Self-Healing Ring
All Digital Design
Hardened Temperature version exceeds NEMA & CALTRANS specs
Protocol Transparent
Separate Broadcast/Receive Channels
RS-232, RS-422, RS-485 (2/4-wire)
Multimode (850/1300nm) or Single Mode (1300/1550nm)
Built-In Power Redundancy
Optical Loop Integrity Test
Local Dry Contact Alarm Relay
Rackmount or Standalone
Applications
The TC2800 is frequently used to interconnect Remote Terminal Units (RTUs) or Programmable Logic Controllers (PLCs) in Utility substation SCADA Networks that require multiple channels. It is also used for similar connectivity applications in Traffic Control, Industrial Process Control and Security System Networks.
Self-Healing Ring
A Self-Healing Ring (also called Dual Ring or Counter-Rotating Ring) topology provides maximum fault tolerance and network flexibility.
It consists of two data paths, Ring A and Ring B, with each data path running in an opposite direction to the other.
Under normal operation only the primary data path (Ring A) is used. When there is fault (cable or failed device), the data path will turn around before it reaches the fault of failed unit and use the secondary data path to complete the link. In this manner, the data path to the remainder of the units will remain intact.
Self-Healing Ring w/ Multiple Masters
The TC2800's most reliable configuration is the "multiple master" Self- Healing Ring.
This innovative configuration maximizes the reliability of a single Master because it can recover faults or failures in both rings in multiple places.
During normal operation, Master # 2 is set in a "THRU" mode via a DIP switch at the front panel.
When a double fault (all four fiber optic cables in a fault condition) occurs (see figure), Master #2 is switched back to "MASTER" mode. In the "MASTER" mode, the broadcast messages are sent through Master #1 and Master #2 at the same time. The responses from the slave units are also received by Master's #1 and #2.
In extreme situations where both rings are broken in two separate places, both Master units poll the Slaves at the same time, but through different "half" rings.
Sample Application #1
Traffic Control SONET Ring Alternative Application
In many traffic control applications, the TC2800 can be used as a low cost alternative to SONET or T1 Rings. The diagram to the right illustrates how the TC2800 can create a self-healing ring network for linking traffic intersections with multiple RS-232 drops for traffic lights, cross walks, camera PTZ, etc.
High speed SONET networks are often expensive and the TC2800 easily provides the desired ring fault protection
A similar application uses the TC2800 to link PTZ, radar detectors, ramp meters, weather stations, etc. along a stretch of highway.
Sample Application #2
SCADA Utility Application
The diagram to the right illustrates a Distribution Automation Network (DAN) with a Self-Healing Ring topology over a distance of about 100 kilometers. The DAN includes Automated Meter Reading and telephone extentions (TC1900's).
It uses a TC2800 Master multi-drop multiplexer at the main office and TC2801 slave muxes at each of the other sites.
The DAN uses four asynchronous 38.4 kbps data channels. To speed up the SCADA polling process (which runs at 9600 kbps), the master station at the main office communicates simultaneously with onehalf of the Remote Terminal Units (RTUs) on channel 1, the other half on channel 2.
The DAN uses channel 3 for an Automated Meter Reading (AMR) system capable of reading meters manufactured by multiple vendors, again at 9600 bps. Channel 4 is used for telephone extension and channel 5 is RS-485 AMR test applications. The integrity of the DAN is monitored entirely through the SCADA system.
Sample Application #3
Telephone & Data Application
The TC2800 can multiplex both telephone and data by using the "Quick-Talk" RS-232 Telephone Extender. Quick-Talk is compatible with most analog PBXs and enables dial-up telephone extensions to be plugged into most RS-232 circuits.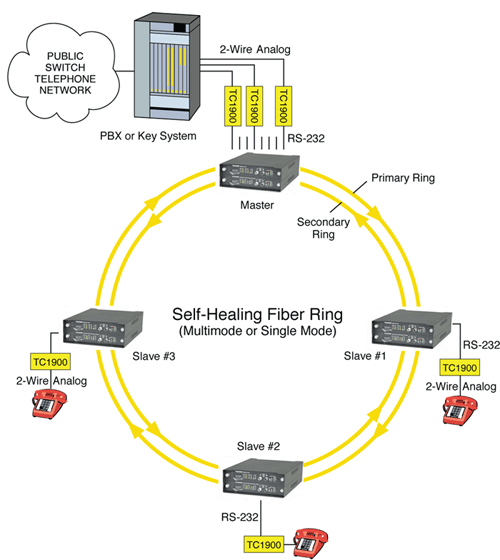 Specifications
Data Rates (per channel)
Async or Sync (w/ ext. clock)up to 56 Kbps
Optical
TransmitterLED/ELED
ReceiverPIN Diode
Wavelength850/1300nm MM, 1300/1550nm SM
Fiber Optic ConnectorsST, Optional FC
Loss Budget * - 850/1300/1550nm
Multimode @ 62.5/125µm15dB
Single Mode @ 9/125µm20dB
Electrical
ConnectorRJ11 Female
InterfaceRS-232, RS-422, or RS-485 (2 or 4-wire)
Diagnostic Functions
Local & Remote Loopback,Yes
Signal Generator,Yes
Disable AlarmYes
Enable Anti-Streaming (TC2801)Yes (TC2801)
Power
Standard12VDC @500mA
Optional24VDC, -48VDC, 125VDC, or 115/230VAC w/ power cube
System
Bit Error Rate1 in 10

9

or better
Alarm
Dry ContactNormal OPEN
Visual Indicators
SystemPWR A, PWR B, VccA, VccB
Electrical SignalBRD & RSP (for each channel), AST (TC2801 only)
Optic SignalRxA, TxB, RxB, SYNCA, SYNCB, A2B (TC2801 only), B2A (TC2801 only), LPA, LPB
AlarmPWRA, PWRB, OPTIC, AST (TC2801 only)
Temperature
Operating-10°C to 50°C
Hi-Temp 1 (optional)-20°C to 70°C
Hi-Temp 2 (optional)-40°C to 80°C
Storage-40°C to 90°C
Humidity95% non-condensing
Physical (Standalone Unit)
Height(6.71 cm) 2.64"
Width(18.13 cm) 7.14"
Depth(24.89 cm) 9.80"
Weight(1.20 kg) 2.66 lbs
* Contact factory for higher requirements
Product version may differ from current manual. For assistance or proper manual version please contact Technical Support.