Situation
A Midwest Power Utility needed to upgrade its communications network to transport various data and voice core substation applications to remote sites. It also wanted to consolidate AMR, teleprotection and telecommunication applications onto one common IP platform with transparent "on and off ramps."
The Utility currently was using a combination of Ethernet, SONET and microwave for its communication network needs. However, it preferred an Ethernet migration path for the future because it wanted a more distributed throughput system (i.e., more bandwidth capacity) along with more simplicity and scalability.
The decision to implement the communications network upgrade came down to two basic choices:
Expand existing SONET rings and install additional Ethernet cards
Upgrade the Ethernet network to a primary communications network
Solution
The Utility decided to create a primary communications network with a mesh topology based on the multiservice Ethernet capability of TC Communication's JumboSwitch® Multi-Service gigabit Ethernet Switch.
According to the Utility's Communications Manager, the JumboSwitch solution provided an immediate migration path for moving existing applications over to IP. To implement these applications, the Utility network deployed 23 JumboSwitch nodes with 4 U chassis, each holding up to 7 seven interface cards.
"With JumboSwitch, we could choose which substation, SCADA, AMR, telecommunication, office and security camera application we wanted to consolidate on the JumboSwitch network," said the Utility's Communications Manager.
Moreover, the JumboSwitch's ability to integrate IP, T1 over IP, VoIP and radio over IP (RoIP) significantly increased the Utility's network's flexibility and scalability for future applications. Specifically, the Jumboswitch allowed the Utility to:
Move AMR, teleprotection and telecommunications over to IP
Simplify T1 build-outs to remote substatons
Add VoIP cards for emergency phone lines
Choose between Ethernet & SONET for current and future applications
Provide an IP communications platform for future Smart Grid migration
Eliminate media converters & Ethernet (rate limiting) service for data customers
Simplify management, monitoring, maintenance and repair
The Utility configured, tested, and commissioned the new JumboSwitch network in about six weeks. This included, Bench Testing, Field Acceptance Testing (FAT), Site Acceptance Testing (SAT), all field installations and a 4-day hardware and TCView® Network Management Software training course.
The system is fully operational and performing well. "I expect the JumboSwitch platform will provide communications for our core utility business and additional services, like T1, to customers for many years to come," said the Utility's Communications Manager.
Application
Products Used
TC3840 - 4U Chassis
TC3841 - 6-port copper gigabit Ethernet Switch cards
TC3845-1 – T1 over Ethernet cards
Application Diagram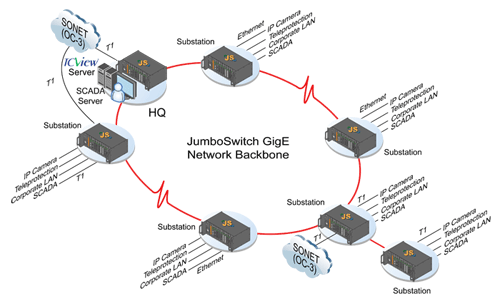 Click to Enlarge
The Utility used the JumboSwitch network for a wide variety of applications including substation, SCADA, Teleprotection, Automatic Meter Reading (AMR), telecommunications, data services (including rate control), security cameras, and office LAN traffic.