TC1631
T1/E1 Fiber Optic Converter Modem
Features
The TC1631R/S is a T1/E1 Fiber Optic Modem that converts analog T1 or E1 signals to digital fiber optic signal and vice versa linking channel banks, PBXs, and M13 multiplexers at distances up to 80km.
TC1631 offers advanced features such as digital transmission, jitter removal and a field replaceable Line Interface Module. Because it is based on modern FPGA (Field Programmable Gate Array) technology, the IC chip counts are reduced to a minimum, hence offering extremely low power consumption (less than 3 watts) and higher reliability.
Distances up to 80km
Local & Remote Loopback
Extensive trouble-shooting LED Indicators
No Jitter
Multimode & Single Mode (1300/1550nm)
Optical Redundancy (Optional)
One Fiber Bi-Directional (Optional)
Low Current Consumption
Replaceable Line Interface Module
Local Dry Contact Alarm Relay
RJ45 (RJ48C) and Detachable Terminal Block Connectors
Applications
The TC1631 Fiber Optic T1/E1 Modem is typically used to link Channel Banks, PBX's, and M13 Multiplexers to DSX-1 Cross Connects. It is also used to link Customer Premises Equipment to CSU/ DSUs and with metallic medium T1/ E1 multiplexers to transmit over fiber optic cable.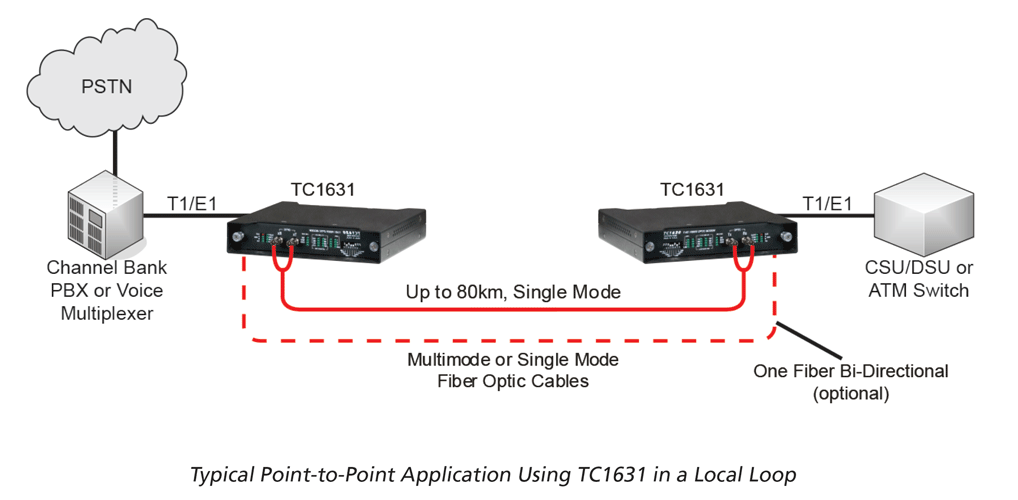 Specifications
Data Rates
T11.544 Mbps
E12.048 Mbps
Optical
TransmitterLED/ELED/LASER*
ReceiverPIN Diode
Wavelength1300nm MM, 1300/1550nm SM
Fiber Optic ConnectorsSC, Optional ST or FC
Loss Budgets * - 1300/1550nm
Multimode @62.5/125µm15dB
Single Mode @9/125µm20dB
Electrical
InterfaceT1 or E1 (G.703)
T1 Connector (100 ohm)Detachable Terminal Block, RJ-48C (RJ-45 Female)
E1 Connector (120 ohm)Detachable Terminal Block, RJ-48C (RJ-45 Female)
E1 Connector (75 ohm)Detachable Terminal Block & BNC Cable
System
Bit Error Rate1 in 10

10

or Better
Alarm
Dry ContactNormal OPEN
Visual Indicators
System StatusPWR A, PWR B, Vcc, ALM, Rx-A, Rx-B, USE-B, SYNC
T1/E1 StatusLOCRD, LAIS, BPV, LOCLB, RMTRD, RAIS, RMTLB, LEN
Diagnostic Functions
Local & Remote LoopbackYes
Power
Standard12VDC @ 300mA
Optional24VDC, -48VDC or 115/230VAC (with Power Cube)
Temperature
Operating-10°C to 50°C
Hi-Temp (optional)-20°C to 70°C
Storage-40°C to 90°C
Humidity95% non-condensing
Physical (Standalone Unit)
Height(3.53 cm) 1.4"
Width(18.14 cm) 7.2"
Depth(16.57 cm) 6.6"
Weight(635 gm) 1.4 lbs
* Contact factory for higher requirements
Product version may differ from current manual. For assistance or proper manual version please contact Technical Support.