TC1680
T3 / E3 Fiber Optic Modem (Rackmount & Standalone)
Featuring built-in self/link testing, the TC1680 T3/E3 Fiber Modem provides a high speed point-to-point data link between two DS3 or G.703 conforming devices.
Product version may differ from current manual. For assistance or proper manual version please contact Technical Support.
Features
Distances up to 100km
Built-in Self Test & Link Test
Hardened Temperature Version (optional)
Multimode or Single Mode (1300/1550nm)
Two-way Single Fiber Communication (optional)
Power Redundancy (standard)
Optical Redundancy (optional)
Low Power Consumption
Local & Remote Loopback
Conforms to Applicable Standards (ANSI T1.102-1993, TR-TSY-000499, CCITT)
Applications
The TC1680 is ideal for most T3/E3 connectivity applications up to distances of 100km. Typical applications include replacing coaxial cable with fiber, extending the point of presence from Telco demarcation points and ATM nodes, transmitting digitized video or linking T3/E3 multiplexers.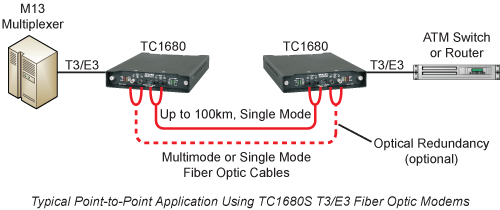 Specifications
Data Rates
T344.736 Mbps
E334.368 Mbps
Optical
TransmitterELED/LASER*
ReceiverPIN Diode
Wavelength1300nm MM, 1300nm/1550nm SM
Fiber Optic ConnectorsST, Optional FC
Loss Budgets * - 1300/1550nm
Multimode @62.5/125µm15dB
Single Mode @9/125µm20dB
Electrical
ConnectorBNC Female
InterfaceT3 or E3 (G.703)
T3 Line CodeB3ZS
E3 Line CodeHDB3
T3 Pulse CodeAMI
Impedance75 Ohm
System
Bit Error Rate1 in 10

10

or Better
Diagnostic Functions
Local & Remote LoopbackYes
Signal Generator, Disable AlarmYes
Visual Indicators
System StatusPWR A, PWR B, Vcc, ALARM
T3/E3 Signal StatusCV, SIGLOS
Optic Signal StatusVLIN, RxA, RxB, USE-A, USE-B
Diagnostic StatusRMTLB, LOCLB, SIG GEN, DISALM
Alarm
Dry ContactNormal OPEN
Switching Voltage200Vdc, Max
Switching Current0.5A, Max
Switching Power10W, Max
Power
Standard12VDC@300mA
Optional24VDC, -48VDC, or 115/230VAC with Power Cube
Temperature
Operating-10°C to 50°C
Hi-Temp (optional)-20°C to 70°C
Storage-40°C to 90°C
Humidity95% non-condensing
Physical (Standalone Unit)
Height(3.53 cm) 1.39"
Width(18.13 cm) 7.14"
Depth(24.89 cm) 9.80"
Weight(907 gm) 2.0 lbs
* Contact factory for higher requirements
Ordering
For More Information