TC1630
T1 / E1 Fiber Optic Modem ("Pocket Rocket")
The TC1630 Fiber Optic T1/E1 Modem is a compact and economical networking solution for linking voice devices such as Channel Banks, PBXs & M13 Multiplexers.
Featuring low current consumption and high reliability, the TC1630 Standalone Fiber Optic T1 Modem / E1 Modem offers advanced features such as Jitter Removal, Multiple LEDs and a replaceable Line Interface Module.
Product version may differ from current manual. For assistance or proper manual version please contact Technical Support.
Features
Distances up to 80km
Hardened Temperature Version
Local/Remote Loopback
Eight LED Indicators
No Jitter
Multimode & Single Mode (850/1300/1550nm)
Low Power Consumption (3 Watts)
Full Digital Technology Design
Supports AMI/B8ZS/HDB3 Line Codes
12 / 24 /-48VDC, or 115/230VAC Power
Applications
The TC1630 Fiber Optic T1/E1 Modem is typically used to link Channel Banks, PBX's, and M13 Multiplexers to DSX-1 Cross Connects in Video Conferencing and Distance Learning applications. It is also used to link Customer Premises Equipment to CSU/DSUs and with metallic medium T1/E1 multiplexers to transmit over fiber optic cable.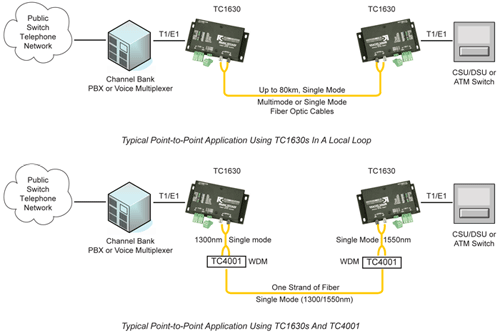 Specifications
Data Rates
T11.544 Mbps
E12.048 Mbps
Optical
TransmitterLED/ELED
ReceiverPIN Diode
Wavelength850/1300nm MM, 1300/1550nm SM
Fiber Optic ConnectorsST, Optional FC
Loss Budgets * - 850/1300/1550nm
Multimode @62.5/125µm15dB
Single Mode @9/125µm20dB
Electrical
InterfaceT1 or E1 (G.703)
T1 Connector (100 ohm)Detachable Terminal Block
E1 Connector (120 ohm)Detachable Terminal Block
E1 Connector (75 ohm)Detachable Terminal Block & BNC Cable
Visual Indicators
System StatusPower, Alarm
T1/E1 StatusO-SYNC, BPV, AIS, T1/E1 OK, RMT1-0, RMTLB
System
Bit Error Rate1 in 10

10

or Better
Diagnostic Functions
Local & Remote LoopbackYes
Power
Standard12VDC @ 250mA
Optional24VDC, -48VDC or 115/230VAC (with Power Cube)
Temperature
Operating-10°C to 50°C
Hi-Temp (optional)-20°C to 70°C
Storage-40°C to 90°C
Humidity95% non-condensing
Physical (Standalone Unit)
Height(2.86 cm) 1.13"
Width(12.70 cm) 5.00"
Depth(6.60 cm) 2.60"
Weight(148 gm) 5.22 oz
* Contact factory for higher requirements
Ordering
For More Information