TC2200
Multi-Drop Fiber Optic Modem (Bus/String: RS232/422/485)
Features
Featuring "Dual Master" redundancy & 2 data/control channels, the TC2200 Multi Drop Fiber Modem supports Bus & String topologies in SCADA & Process Control networks.
The TC2200 supports RS232, RS422 or RS485 interfaces and is often used to interconnect RTUs, PLCs & IEDs in Utility, SCADA, Traffic Control & Industrial Process Control networks.
Bus or String Topologies
Fault Tolerant "Double" Master (optional)
Async Data Rates up to 38.4 Kbps
RS-232, RS-422 or RS-485
Multimode & Single Mode (850/1300/1550)
Hardened
Applications
Renowned for its high reliability, the TC2200 Multi-Drop Modem is ideal for Bus or String communication links in SCADA, Traffic Control, Industrial Process Control and security networks. It is frequently used to interconnect Remote Terminal Units (RTUs) or Programmable Logic Controllers (PLCs) in Utility substation SCADA Networks.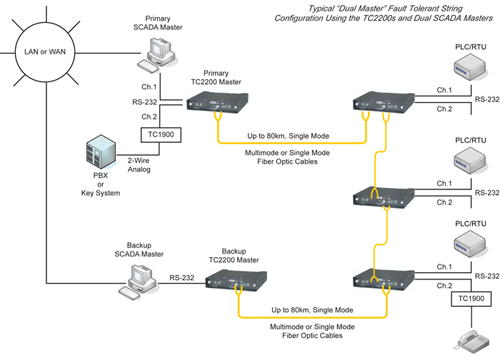 Specifications
Data Rates
Async RS-232, RS-422, RS-485up to 38.4 Kbps
Optical
TransmitterLED/ELED/LASER*
ReceiverPIN Diode
Wavelength850/1300nm MM, 1300/1550nm SM
Fiber Optic ConnectorsST, Optional FC
Loss Budgets * - 850/1300/1550nm
Multimode @ 62.5/125µm15dB
Single Mode @ 9/125µm20dB
Electrical
ConnectorDB25 Female
Interface(DCE or DTE) RS-232,RS-422, or RS-485 (2 or 4-wire)
System
Bit Error Rate1 in 10

9

or Better
Diagnostic Functions
Local & Remote LoopbackYes
Signal Generator, Disable AlarmYes
Visual Indicators
SystemMASTER, SLAVE, PWRA, PWRB, Vcc, ALARM
ElectricalBRD-1, BRD-2, RSP-1, RSP-2, DCE, DTE
OpticalRx-A, Rx-B, Sync-A, Sync-B
Alarm
Dry ContactNormal OPEN
Power
Standard12VDC @400mA
Optional24VDC, -48VDC, or 115/230VAC w/ Power Cube
Temperature
Operating-10°C to 50°C
Hi-Temp (optional)-40°C to 70°C
Storage-40°C to 90°C
Humidity95% non-condensing
Physical (Standalone Unit)
Height(3.53 cm) 1.39"
Width(18.13 cm) 7.14"
Depth(16.59 cm) 6.53"
Weight(544 gm) 1.25 lbs
* Contact factory for higher requirements
Product version may differ from current manual. For assistance or proper manual version please contact Technical Support.