TC1540
Multi-Interface Async Fiber Optic Modem [RS232/422/485 (2/4-Wire)]
Features
Supporting data rates up to 500 Kbps, the TC1540 RS485 Fiber Modem is an unusually flexible point-to-point link for Industrial, SCADA & Process Control Networks.
The TC1540 is a highly versatile, switch-selectable 2/4-wire RS 485 fiber optic modem that can mix or match RS-232, RS-422 or RS-485 (2-wire or 4-wire) interfaces, as required. For example, a user could link a RS-485 interface on one end with an RS-232, RS-422 or 4-wire RS-485 interface on the other. The 2-wire RS-485 versions can be converted to 4-wire RS-485 by changing a DIP switch.
Async Data Rates to 500 Kbps*
Distances up to 80km
Multimode or Single Mode (850/1300/1550nm)
Switch-Selectable RS-485 (2/4 wire) or RS-422
Mix & Match RS-232/422/485
Built-In Test Signal Generator
7 LEDs & 7 DIP Switches for Diagnostics
Detachable Terminal Block Connectors
Local & Remote Loopback
12VDC, 24VDC, -48VDC, or 115/230VAC
Applications
The TC1540 typically interconnects CPUs or Host Controllers with remote terminal units (RTUs). It is frequently used in SCADA, Traffic Control, Manufacturing Process Control and Security applications.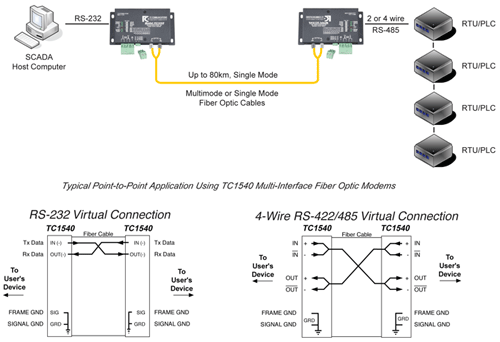 Specifications
Data Rates
Asyncup to 500 Kbps*, (RS-232) up to 120 Kbps
Optical
TransmitterLED/ELED
ReceiverPIN Diode
Wavelength850/1300nm MM, 1300/1550nm SM
Fiber Optic ConnectorsST, Optional FC
Loss Budgets * - 850/1300/1550nm
Multimode @62.5/125µm15dB
Single Mode @9/125µm20dB
Electrical
ConnectorTerminal Blocks
Interface(DCE) RS-232, RS-422, or RS-485 (2 or 4-wire)
System
Bit Error Rate1 in 10

9

or Better
Visual Indicators
LEDsTD, RD, O-Sync, Coll, DrvMd, RS-485, Power
Power
Standard12VDC @250mA
Optional24VDC, -48VDC or 115/230VAC (with External Power Cube)
Temperature
Operating-10°C to 50°C
Hi-Temp (optional)-20°C to 70°C
Storage-40°C to 90°C
Humidity95% non-condensing
Physical (Standalone Unit)
Height(2.86 cm) 1.13"
Width(12.70 cm) 5.00"
Depth(6.60 cm) 2.60"
Weight(148 gm) 5.22 oz
* Contact factory for higher requirements
Product version may differ from current manual. For assistance or proper manual version please contact Technical Support.