TC8938
Emergency Phone Line Bridge / Crash Phone
Features
Designed specifically for emergency phone line applications, the TC8938-1/-2 receives and broadcasts a 2-wire analog POTS signal to up to 7 remote phones. The initiator of the call can have a conversation with up to 7 remote users on the same phone line.
The TC8938 provides one master FXS port for initiating the emergency phone call. It provides 7 FXS extension ports, each one connecting to 2-wire analog phones. Each remote port provides its own ring generator that rings a conventional 2-wire analog phone.
One Master Port, FXS Standard (TC8938-1), FXO Optional (TC8938-2) & Up to 7 Extension Ports
Two Master Ports, FXS Only (TC8938-3), Up to 6 Extension Ports
Voice Bandwidth from 300Hz to 3.4Khz for Toll Quality Sound
12VDC Power Supply, Optional 24VDC, -48VDC, 125VDC or 115/230VAC*
Built-In Power Redundancy
Rackmount or Standalone
Hi Temp or Extreme Temp Options
*115/230VAC for Rackmount unit
115/230VAC with power adapter for Wallmount unit
Applications
The TC8938 is used in emergency party-line network applications. Up to 8 users can be linked to one party-line conversation.
For example, if an emergency at an airport occurs picking up the master phone in the control tower will automatically ring all remote telephone extensions. Remote extensions can be located at local police, fire, ambulance and health facility locations. PBX is not required.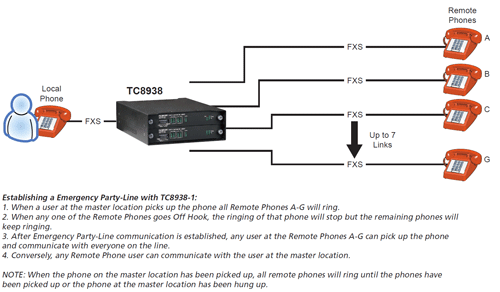 Specifications
Data Rates
Telephone300 Hz to 3.4 Khz
Channel Capacity
TC8938-18 (1 FXS Host + 7 Remotes)
TC8938-28 (1 FXO Host + 7 Remotes)
TC8938-38 (2 FXS Host + 6 Remotes)
Electrical
ConnectorRJ11 Female
Interface2 Wire POTS
System
Bit Error Rate1 in 10

9

or Better
Visual Indicators
System StatusAlarm, Power A, Power B, Vcc
Channel StatusTx Rx
Diagnostic Functions
Ring Test, Disable Alarm, Volume Adjustment
Power
Standard12VDC @1.2A
Optional24VDC, -48VDC, 125VDC
or 115/230VAC for Rackmount unit
or 115/230VAC w/ power adapter for Wallmount unit
Temperature
Operating-10°C to 50°C
Hi-Temp (optional)-20°C to 70°C
Extreme (optional)-40°C to 80°C
Storage-40°C to 90°C
Humidity95% non-condensing
Physical (8-ch Standalone)
Height(3.53 cm) 1.39"
Width(18.13 cm) 7.14"
Depth(24.89 cm) 9.80"
Weight(887 gm) 1.96 lb
Product version may differ from current manual. For assistance or proper manual version please contact Technical Support.