TC8928
Analog Broadcaster/Bridge
Intended for public safety and SCADA communications applications, the new TC8928 Analog Broadcaster/Bridge from TC Communications receives a single 4-wire 600 ohm analog signal and broadcasts it to up to 7 remote analog lines. It can be used in conjunction with the TC3846-6 Analog IP Gateway to broadcast over Ethernet networks.
The TC8928 provides one host port, up to seven analog ports and operates in two modes:
In NORMAL mode, channel 1 (host port) can receive all analog signals from channels 2 to 8. The analog signal from channel 1 will be broadcast to all channels 2 to 8; however, the analog signals from channels 2 to 8 can only go to channel 1.
In BRIDGE mode, all of the analog signals from all channels 1 to 8 can communicate at the same time.
Product version may differ from current manual. For assistance or proper manual version please contact Technical Support.
Features
Broadcasts Up to 7 Remote Ports
4-Wire Analog
Operates in Normal and Bridge Mode
12VDC Power Supply, Optional 24VDC, -48VDC, 125VDC or 115/230VAC*
Built-In Power Redundancy
Rackmount or Standalone
Hi Temp or Extreme Temp Options
*115/230VAC for Rackmount unit
115/230VAC with power adapter for Wallmount unit
Applications
Broadcasts single source radio messages to multiple remote audio devices (e.g. radio consoles, speakers & repeaters)
Broadcasts analog SCADA computer signals out to multiple sites or Remote Terminal Units (RTUs) with one site responding back to host
Often used with TC3846-6 IP Gateway to multicast analog signals over Ethernet/IP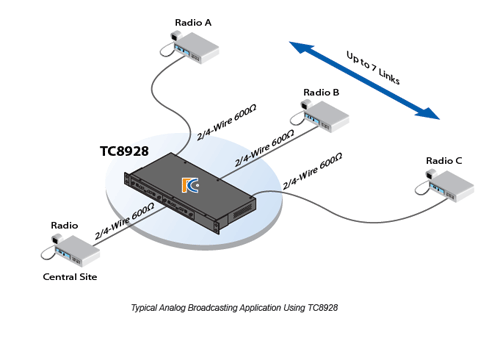 Specifications
Audio Bandwidth
4-Wire Analog300 Hz to 3.4 Khz
Channel Capacity
4 or 84 (1 Host + 3 Remotes)
8 (1 Host + 7 Remotes)
Electrical
ConnectorRJ11 Female
Analog Interface (2 or 4 Wire)600 Ohm Isolated Transformer
System
Bit Error Rate1 in 10

9

or Better
Visual Indicators
System StatusAlarm, Power A, Power B, Vcc
Channel StatusIN/OUT
Power
Standard12VDC @1.2A
Optional24VDC, -48VDC, 125VDC
or 115/230VAC for Rackmount unit
or 115/230VAC w/ power adapter for Wallmount unit
Temperature
Operating-10°C to 50°C
Hi-Temp (optional)-20°C to 70°C
Extreme (optional)-40°C to 80°C
Storage-40°C to 90°C
Humidity95% non-condensing
Physical (4-ch Standalone)
Height(3.53 cm) 1.39"
Width(18.13 cm) 7.14"
Depth(24.89 cm) 9.80"
Weight(887 gm) 1.96 lb
Ordering
For More Information