TC3212
10/100 Fiber Optic Media Converter/Switch
Features
Specifically designed for long distances, the TC3212 can extend LAN segments up to 80 kilometers and maximize bi-directional, fiber optic cable usage.
The TC3212 10/100Base-T Ethernet Fiber Optic Converter provides a 100Base-FX port that combines Ethernet Switching with the benefits of fiber optic technology to boost network bandwidth, security and immunity from electro-magnetic Interference (EMI) and ground loops.
Compact Design ("Pocket Rocket" chassis)
Link Distances up to 80km *
One-Fiber Bi-Directional Communication (optional)
Multimode or Single Mode (1300/1550nm)
Full or Half-Duplex Operation
Seven LED Status Indicators
Power: 12VDC, 24VDC, -48VDC or 115/230VAC
Operating Temp -10°C to 50°C (Extreme Temp -40°C to 80°C optional)
Applications
The TC3212 is frequently used to extend or connect Ethernet segments up to 80km*. Typical applications include linking Ethernet Switches or workstations.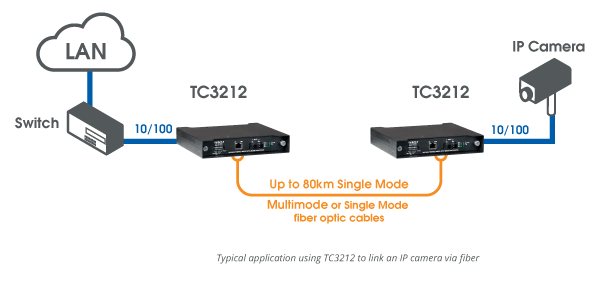 Specifications
Data Rates (per channel)
Rates10/100 Mbps
Optical
TransmitterLASER
ReceiverPIN Diode
Wavelength1300nm Multimode 1300/1550nm Single Mode
Fiber Optic ConnectorsSC, Optional FC, ST
Loss Budget* - 1300/1550nm
Multimode @ 62.5/125µm15dB
Single Mode @ 9/125µm20dB
One Fiber (Bi-Directional Communications)Up to 60Km
Electrical
Connector(UTP) RJ45 Female
Visual Indicators
Power StatusPWR, & VCC
Alarm StatusALARM
UTP Signal StatusLNK, SPD (Pocket Rocket), LNK, 100M (Standalone)
Optic Signal StatusLNK, SPD, SDET (Pocket Rocket), LNK,100FX, SDET (Standalone)
Ethernet Standards
IEEE 802.3, 802.3u, 802.3x10/100Base-T, 100Base-FX
Power
Standard12VDC
Optional24VDC, -48VDC, 115/240VAC with Power Cube
Temperature
Operating-10°C to 50°C
Hi-Temp (optional)-20°C to 70°C
Extreme-Temp (optional)-40°C to 80°C
Storage-40°C to 90°C
Humidity95% non-condensing
Physical (Pocket Rocket)
Height(2.86 cm) 1.13"
Width(12.7 cm) 5"
Depth(6.6 cm) 2.6"
Weight(173 gm) 6.1 oz
Physical (Standalone)
Height(3.53 cm) 1.39"
Width(18.13 cm) 7.14"
Depth(16.59 cm) 6.53"
Weight(544 gm) 1.2 lbs
* Contact factory for higher requirements
Product version may differ from current manual. For assistance or proper manual version please contact Technical Support.