TC3840-3
Main and Management Combo Card
For the smaller 1U and 2S chassis options, a single Main/Management/Switch "Combo" Card is used.
For assistance with this product or to request a user manual please contact Technical Support.
Features
Provides Layer 2 Switching Functionality
Fully Managed via CLI, Telnet & SNMP
4-Port 10/100/1000 Copper, 2-Port SFP Gigabit
Ethernet Rate Limiting, VLAN, QoS
Built-In Power/Temperature Sensors
Industrial Hardened & IEC 61850-3, IEEE 1613 & NEMA TS-2 Compliant
Applications
The JumboSwitch Main/Management "Combo" Card is typically used by Utilities to connect substation RTUs/PLCs and telephones or T1/E1 links to a central control center.
It is also used by Data Service Providers for its modular multi-interface, rate limiting, one-fiber-bidirectional and media conversion capabilities.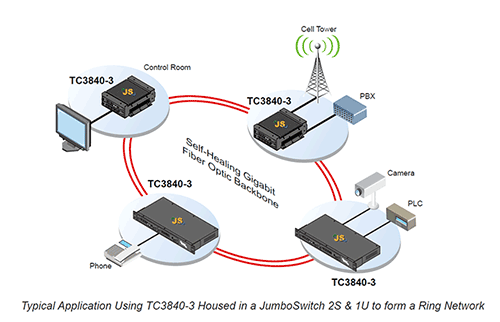 Specifications
Data Rates
10/100/1000 Mbps with Rate Control
Optical
TransmitterELED/LASER*
ReceiverPIN Diode
Wavelength
SFP850nm MM
SFP1300/1550nm SM
SFP Optic
ConnectorsLC
Port2
Interface1000SX/LX
Electrical
Ethernet
ConnectorRJ45 Female
Ports4
Interface10/100/1000M
System
Bit Error Rate1 in 1010 or Better
Regulatory Approval
CE, FCC Part 15, CISPR (EN55022) CLASS A, IEC 61850-3, IEEE 1613, NEMA TS-2
Diagnostic Functions
Traffic Statistics, Transmit Power & Receive Power, Temperature
LEDs
PWR (A,B), Vcc, ALM, SHR, MSTR, BP, MGM
Power
Standard15W
Option12, 24, -48 VDC or 115/230 VAC, 50/60Hz (with external cube)
Operating Temperature
High Temp(-20°C to 70°C
Extreme Temp(-40°C to 80°C
Storage
Temperature-40°C to 90°C
Humidity95% non-condensing
Physical (Rackmount Card)
Height(3.2 cm) 1.25"
Width(17.8 cm) 7.0"
Depth(23.5 cm) 9.25"
Weight(0.5 kg) 1 lbs*
*Contact factory for higher requirements
Ordering
For More Information