TC3840-5
JumboSwitch 2.5G 4U Ethernet Management Card
Features
The JumboSwitch® TC3840-5 is a 2.5G Multi-Service Layer 2 Switch supported in a modular chassis design with 7 open slots in the 4U chassis, offering 2x SFP ports capable of speeds up to 2.5G for connecting up and down nodes to form a ring or bus topology.
The JumboSwitch® series is a TDM over IP/Ethernet based solution designed to emulate time-division multiplexing over packet switched networks (PSN). TDM over IP/Ethernet is a TDM pseudowire (PW) technology making it possible to provision E1, T1, E3, T3, STS-1 and serial data services across PSN's such as IP, MPLS or layer 2 Ethernet Networks.
Features
MEF Carrier Ethernet 2.0 Compliant
E-Line, E-LAN, E-Tree, and E-Access Services
Ethernet OAM Service Assurance
Sub-50ms Protection Switching by ITU-T G.8032v2 ERPS
IEEE 1588v2 PTP Time Synchronization
Temperature, Power Consumption & SFP Monitoring
Configuration
2-Port GbE SFP (Optional 2.5G)
2-Port GbE RJ45
Supports up to 7 JumboSwitch® Interface cards
Supports 1 additional JumboSwitch® Ethernet card
For JumboSwitch® 1U/2U/4U Chassis
Applications
The JumboSwitch® Management Card is commonly used by Utilities to connect substation RTUs/PLCs and telephones or T1/E1 links to a central control center.
It is also used by Data Service Providers for its modular multiinterface, rate limiting, onefiber- bi-directional and media conversion capabilities.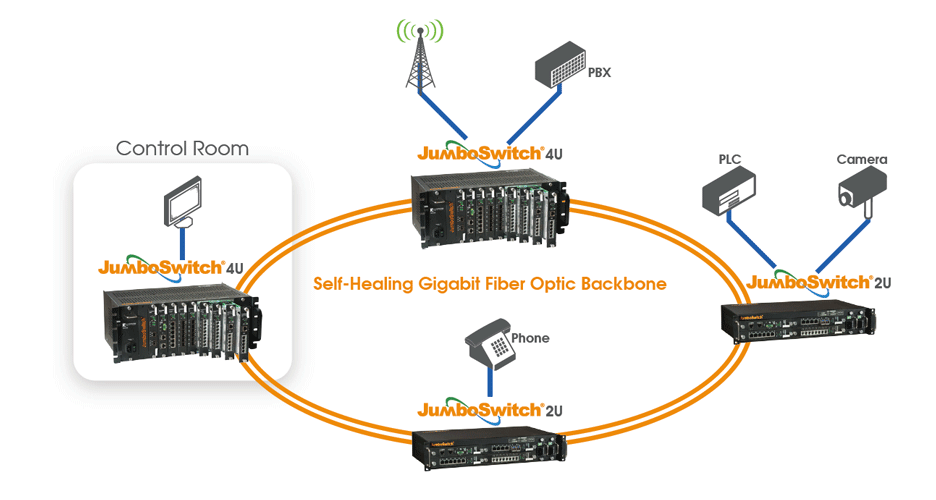 Specifications
Data Rates
SFPup to 2.5 Gbps
RJ4510/100/1000 Mbps
Optical
Wavelength
Multimode850nm
Single Mode1310/1550nm
SFP Optic
ConnectorLC
Port2
SFP I/F1000 BASE-LX/SX, 100FX, 2.5G
Electrical
Ethernet
ConnectorRJ45
Port2
Interface1000 Base-T
Console
ConnectorRJ45
Port1
InterfaceRS-232
Regulatory Approval
CE, FCC Part 15, CISPR (EN55022) CLASS A, IEC 61850-3, IEEE 1613, NEMA TS-2, EN50155, AREMA
LEDs
PWR A, PWR B, VCC, MGM, ALARM, LINK, SPEED
Power
AC115/230V, 50/60Hz
DC12/24/48/125V
Operating Temperature
High Temp-20°C to 70°C
Storage
Storage-40°C to 90°C
Humidity95% non-condensing
Physical (rack mount card))
Height(3.2 cm) 1.25"
Width(17.8 cm) 7.0"
Depth(23.5 cm) 9.25"
Weight(0.5 kg) 1.0 lbs
* Contact factory for higher requirements
For assistance with this product or to request a user manual please contact Technical Support.