TC3846-6
600 Ohm Analog and Dry Contact-over-IP Gateway
Features
This Analog & Dry Contact IP Gateway links or extends up to 4 channels of 4W E&M or 2-wire 600 ohm analog circuits across Layer 2/3 Ethernet networks.
Learn more about Enhanced Audio with Analog Radio Over IP
The JumboSwitch® series is a TDM over IP/Ethernet based solution designed to emulate time-division multiplexing over packet switched networks (PSN). TDM over IP/Ethernet is a TDM pseudowire (PW) technology making it possible to provision E1, T1, E3, T3, STS-1 and serial data services across PSN's such as IP, MPLS or layer 2 Ethernet Networks.
Pass full 300Hz-3kHz bandwidth without compression or added noise or distortion
1, 2 or 4 ports of 4W E&M or 2-wire audio over IP
1 and 2 ch. units field expandable to 2 or 4 channels
No compression of the audio ensures exceptional audio clarity and 100% compatibility with signaling tones
Extremely Low Latency
Temperature and power consumption monitoring
Extreme temp (-40°C to +80ºC) optional
Meets or exceeds IEC 61850-3, IEEE 1613 and NEMA TS-2 standards
Member of JumboSwitch Product Family
"Over the past thirty-five years I have used similar boxes from other vendors for similar applications. But I have never seen one that would produce such a linear, uniform audio transmission from one end to the other - especially across an IP link."


- Martin T. Vinson, N.C.T., A.S.C.E.T.
Applications
TC3846-6 is effective for most Analog/Radio over IP Gateway applications, such as linking Repeater and voting receiver sites to central voter/dispatch sites, improving voice quality and increasing system reliability in harsh environments. Applications also include linking or extending 4W E&M and 2W 600 ohm analog circuits, audio and intercom devices, Modems (e.g. Frequency Shift Keying [FSK] and FFSK modems), teleprotection relay controllers and dry contacts over Layer 2/3 IP networks.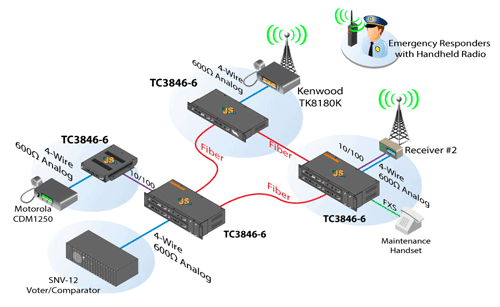 Specifications
Connection Capacity
600 ohm (2/4 Wire)1, 2, or 4 Ports
Dry Contact1, 2, or 4 Ports
Ethernet1 Port
Electrical
Dry Contact Interface
Normal openStandard
Normal closeOptional
Load Voltage (peak AC)60V
Load Voltage (DC)60V
Continuous load current0.55A
Peak load current1.2A
Max On Resistance2.5 Ω
Output Capacitance150pF
Detector Max input voltage9V
600Ω Analog Interface
Impedance600Ω
Max Input3Vp-p
Frequency band300 to 3400Hz
Ethernet Interface
StandardsIEEE 802.3, 802.3u, 802.1p&Q
ConnectorRJ45
Console PortRJ45
Regulatory Approval
CE, FCC Part 15, CISPR (EN55022) CLASS A, IEC 61850-3, IEEE 1613, NEMA TS-2
System
Bit Error Rate1 in 10

10

or Better
Diagnostic Functions
Local and Remote Loopback for Analog and Ethernet
LEDs
Unit StatusPWR (A, B), Alarm, Vcc, CS, MS
ChannelStatus
EthernetLink/Act
Power
Standard12VDC
Optional24VDC, -48VDC or 125VDC (1U/ 2U/ 4U only), 90-260 VAC, 50/60Hz
Power Consumption< 10W
Operating Temperature
Hi-Temp-20°C to 70°C
Extreme Temp-40°C to 80°C
Storage
Temperature-40°C to 90°C
Humidity95% non-condensing
Physical (4-Channel Standalone)
Height(3.15 cm) 1.24"
Width(17.78 cm) 7.0"
Depth(22.86 cm) 9.0"
Weight(0.3 kg) 0.75 lbs
For assistance with this product or to request a user manual please contact Technical Support.