TC3301
1000Base-T Fiber Optic Media Converter
Converts or connects 1000Base-T unshielded twisted-pair devices to single mode (1300/1550nm) or multimode (850/1300nm) fiber optics.
Featuring an "Industrial-Hardened" version for extreme environments, the TC3301 Gigabit Ethernet Fiber Optic Converter supports distances up to 100km and is available with an option for one fiber bi-directional communication.
Product version may differ from current manual. For assistance or proper manual version please contact Technical Support.
Features
1000Base-T to Fiber Conversion
Multimode or Single Mode (850/1300/1550nm)
One Fiber Bi-Directional Communication (optional)
Distances up to 100Km
Built-In Power Redundancy
Local Dry Contact Alarm Relay
Hardened Temperature version exceeds NEMA & CALTRANS specs
Rackmount or Standalone
Applications
The TC3301 is typically used to interconnect 1000Mbps switching hubs, switches, workstations or any other Ethernet compliant device at distances up to 100km.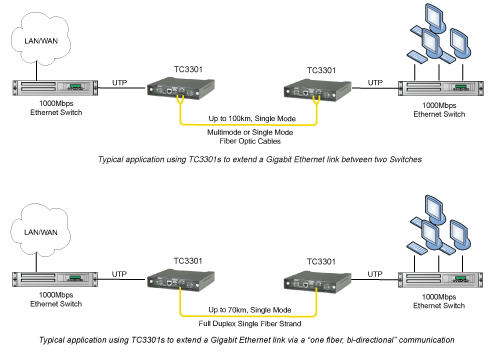 Specifications
Data Rate
Rate1000 Mbps
Optical
TransmitterELED/LASER*
ReceiverPIN Diode
Interface1000Base-SX, 1000Base-LX
Wavelength850/1300nm Multimode, 1300/1550nm Single Mode
Fiber Optic ConnectorsST, FC, SC**
Loss Budget* - 1300nm
Multimode @62.5/125µm12dB
Single Mode @9/125µm20dB
Electrical
ConnectorRJ45 Female
Interface1000Base-T
System
Bit Error Rate1 in 10

10

or better
Visual Indicators
SystemPWR A, PWR B, FO, Vcc, 1000M, FDX, LNK, ACT
Alarm
Dry ContactNormal OPEN
Power
Standard12VDC @<300mA
Optional24, -48, 125 VDC or 115/230VAC (with External Power Cube)
Temperature
Operating-10°C to 50°C
Hi-Temp(optional)-20°C to 70°C
Extreme Temp(optional)-40°C to 80°C
Storage-40°C to 90°C
Humidity95% non-condensing
Physical (Standalone Unit)
Height(3.53 cm) 1.39"
Width(18.13 cm) 7.14"
Depth(16.59 cm) 6.53"
Weight(544 gm) 1.2 lbs
Ordering
For More Information