TC1100
RS232 Fiber Optic Modem ("Pocket Rocket"; Async/Sync)
Features
Compact and versatile, the TC1100 "Pocket Rocket" synchronous & asynchronous RS-232 fiber modem is ideal for point-to point network connectivity applications.
The TC1100 is "DCE" only and supports external synchronous data transmission up to128 Kbps and all popular internal clock rates (switch-selectable) including 2.4K, 4.8K, 9.6K, 38.4K, 64K, 128K. It supports asynchronous data rates up to 64 Kbps.
Data Rates up to 115 Kbps
Selectable Internal Clock or Slave Clock
DCE Only
Hardened Temperature Version (-20°C to 70°C) (optional)
Multimode or Single Mode (850/1300/1550nm)
Five Troubleshooting LEDs
Sturdy Compact Metal Case
Applications
Typical applications include linking remote terminals or printers to host computers, tail circuits to existing multiplexers and extending data communications links. Fiber Optic Modems are also ideal for connecting data communications devices in harsh manufacturing or outdoor environments here EMI or RFI interference, ground loops and lightning are prevalent.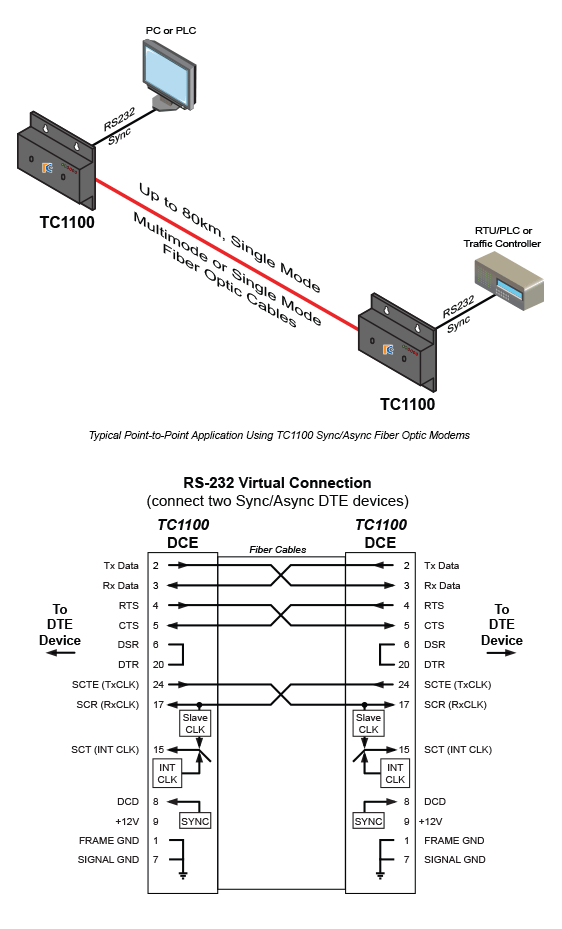 Specifications
Data Rates
Asyncup to 115 Kbps
Syncup to 128 Kbps
Internal Clock
User-Selectable2.4K, 4.8K, 9.6K, 19.2K, 38.4K, 64K, 128K
Optical
TransmitterLED/ELED
ReceiverPIN Diode
Wavelength850/1300nm MM, 1300/1550nm SM
Fiber Optic ConnectorsST, Optional FC
Loss Budgets * - 850/1300/1550nm
Multimode @62.5/125µm15dB
Single Mode @9/125µm20dB
Electrical
ConnectorDB25 Male
Interface(DCE ONLY) RS-232
System
Bit Error Rate1 in 10

9

or Better
Visual Indicators
LEDsDC, RxD, TxCLK, TxD, SYNC
Power
Standard12VDC @250mA
Optional115/230VAC (with External Power Cube)
Temperature
Operating-10°C to 50°C
Hi-Temp (optional)-20°C to 70°C
Storage-40°C to 90°C
Humidity95% non-condensing
Physical (Standalone Unit)
Height(2.24 cm) 0.88"
Width(10.05 cm) 3.96"
Depth(7.77 cm) 3.06"
Weight(104.0 gm) 3.67 oz
* Contact factory for higher requirements
Product version may differ from current manual. For assistance or proper manual version please contact Technical Support.