TC1504
Synchronous RS422 / 449 Fiber Optic Modem (Ext. Clock)
Features
Intended as a point-to-point link for high speed synchronous data devices, the TC1504 Fiber Modem is an economical fiber optic network connectivity solution.
Transparent to the data and DCE/DTE switchable, the TC1504 combines external clocking and data into an optical composite signal for transmission between local and remote units. It supports all types and sizes of multimode (850nm/1300nm) or single mode (1300/1500nm) fiber optic cable. An extended temperature version (-20°C to 70°C) is optional.
Sync Data Rates up to 2.048 Mbps
Distances up to 80km
Multimode or Single Mode (850/1300/1550nm)
DTE/DCE Selectable
Six Diagnostic LEDs
Slave Clock
Local & Remote Loopback Functions
Hardened Temperature Version (optional)
View Dimensions
Applications
The TC1504 is typically used to link high speed synchronous data devices. It is frequently used in harsh environments because of its fiber optic benefits. This makes it an efficient, low cost solution to electrical/radio frequency interference, ground loops and lightning problems.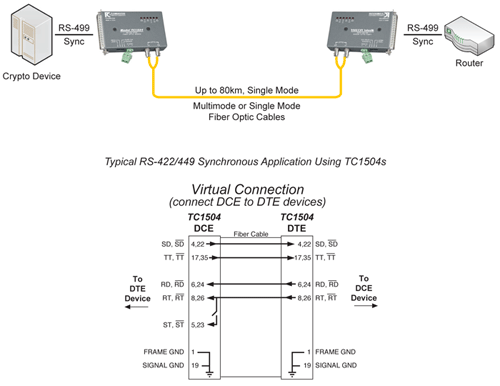 Specifications
Data Rates
Sync DC (0Hz)up to 2.048 Mbps*
Optical
TransmitterLED/ELED
ReceiverPIN Diode
Wavelength850/1300nm MM, 1300/1550nm SM
Fiber Optic ConnectorsST, Optional FC
Loss Budgets * - 850/1300/1550nm
Multimode @62.5/125 m15dB
Single Mode @9/125 m20dB
Electrical
ConnectorDB37 Male
Interface (DCE/DTE Switchable)RS-422/449
System
Bit Error Rate1 in 10

9

or Better
Visual Indicators
LEDsPWR, RxT, RxD, TT, TxD, Sync
Power
Standard12VDC @200mA
Optional115/230VAC
Temperature
Operating-10°C to 50°C
Hi-Temp (optional)-20°C to 70°C
Storage-40°C to 90°C
Humidity95% non-condensing
Physical (Standalone Unit)
Height(2.0 cm) 0.72"
Width(10.4 cm) 3.89"
Depth(7.5 cm) 2.36"
Weight(170 gm) 5.46 oz
* Contact factory for higher requirements
Product version may differ from current manual. For assistance or proper manual version please contact Technical Support.